Of the seven games in our benchmarking suite, four of them support the DX12 API, and we test with DX12 where available. Of those four games – Battlefield V, Deus Ex: Mankind Divided, Metro Exodus, and Shadow of the Tomb Raider – the RX 5700 proved to be the faster card (versus RTX 2060 SUPER) across three titles. For our other three games which use DX11, RX 5700 was slower, on average, in all of them.
That's a clear preference for DX12 demonstrated by the RX 5700, so without exhaustively testing more games using both DX11/DX12, we re-tested those four titles listed above in DX11 to get an idea for the performance scaling between the two APIs.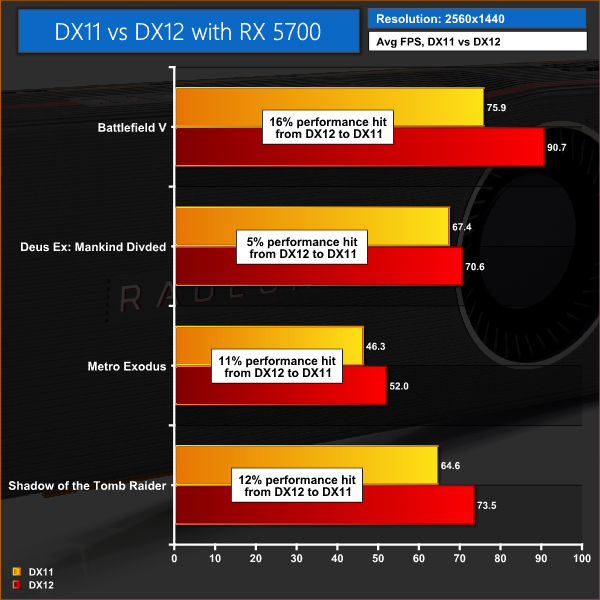 The differences are bigger than I expected. Deus Ex aside, which still shows a 5% hit moving from DX12 to DX11, we saw performance drops of 11%, 12% and 16% across the other three titles. That's an average performance hit of 11% when using DX11 vs DX12.
Of course, this is only a small sample size and it would be fascinating to test further. But there's no doubt in my mind that you'll be getting the most from your RX 5700 when using the DX12 API.