Today marks the official launch of AMD's new Ryzen 3000 processors, but also two new graphics cards – the Radeon RX 5700 and RX 5700 XT. This review has been focused on the cheaper of the two, the RX 5700, but if you want to read our launch-day review of the XT, you can find that over here.
Getting right to it, there is no doubt in my mind that AMD is back with a massive bang in the mid-range graphics market. Even at its original price of $399/£379 the RX 5700 proves competitive, and it puts a lot of pressure on Nvidia's £379 RTX 2060 SUPER which itself only launched earlier this week.
However, AMD really cranked things up a notch with its price cut, communicated to us on Friday that the RX 5700 would now cost $349 – making it $50 cheaper than 2060 SUPER, and the same price as the original 2060.

If you haven't already, I recommend you take the time to go through the benchmark results shown earlier in this review, on a game-by-game basis. The RTX 2060 SUPER is on average 1% faster than the RX 5700, but that number hides some big performance swings. The RX 5700 really shines in Battlefield V and Deus Ex: Mankind Divided, two titles where it outstrips the 2060 SUPER by 7% and 12% respectively.
The Nvidia hardware fares better in DX11 games, though, particularly Middle Earth: Shadow of War where the RX 5700 proved 15% slower than 2060 SUPER. This is also the only title in our suite where the original RTX 2060 out-paced the RX 5700. Other wins for the 2060 SUPER came from Far Cry 5, Ghost Recon: Wildlands and Shadow of the Tomb Raider – though the margins of difference across all three games proved less than 5%.
Relative to the new RX 5700 XT, my figures show RX 5700 to be 10% slower, but also 13% cheaper based on the respective $399 and $349 MSRPs. Up against the RTX 2060 at the $349 price point, it's a clear win for AMD as RX 5700 proves 13% faster on average – though, again, that number hides some very significant performance variation.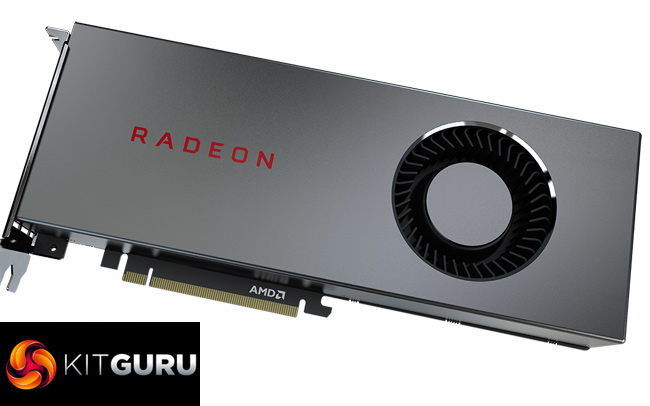 As AMD's reference card designs go, the RX 5700 is OK but still not great. The cooler kept temperatures at 77C or below, which is fine but not fantastic so hopefully there will be a variety of good custom cards hitting the market soon. The main issue really is noise levels again, as while the RX 5700 is noticeable quieter than the likes of Vega 64, it is still very much a loud card.
Power draw has improved significantly, however, and AMD's claim of 1.5x performance-per-watt over GCN is very easily believed. We saw total system power draw barely 7W higher than with the 2060 SUPER, and only 16W higher than the RTX 2060. This is a remarkable comeback for AMD, whose cards have long been known to draw significantly more power than their Nvidia counterparts. Those days seem to be over.
So, to answer the question I am sure many of our readers are thinking – should I buy the RX 5700 or the RTX 2060 SUPER? Well, that is the question I would have asked if pricing hadn't changed just before launch – now the 5700 is priced the same as the original RTX 2060.
While things aren't especially clear-cut when comparing the RX 5700 to the 2060 SUPER, there is no doubt in my mind that the 5700 is a much better buy than the RTX 2060. It's on average 13% faster – with some even bigger performance leads hidden by that number, as it proves 24% faster in Battlefield V, for instance.
Even up against the 2060 SUPER, our games have the 5700 just 1% slower on average, though do bear in mind there is a lot of performance variation from game-to-game, API-to-API, and even resolution-to-resolution based on our testing. There's no doubt these new AMD cards favour the DX12 API, though Nvidia cards still do best in DX11.
One thing worth factoring in, too, is ray tracing support – which is currently non-existent for AMD's desktop graphics cards. Admittedly, at the moment, I do not see ray tracing as a big value-add for Nvidia at all, with just three titles (not including Quake II…) supported as of July 7. E3 saw some pretty big names announce support for the technology, however, including Cyberpunk 2077, Watchdogs: Legion, Call of Duty, Wolfenstein… There's no doubt that industry adoption is, however slowly, on the up.
Even so, if you asked a room full of gamers whether they'd prefer a card which is 13% faster with no ray tracing support, or the slower card with ray tracing support – I can give a good guess which they'd pick. As of right now, AMD's Radeon RX 5700 is a fantastic return to form for the company and has become the new go-to card at this price point.
I would definitely urge potential buyers to wait and see what custom cards become available, as a decent model is going to run cooler and quieter than the reference design. Even taking that into account, the RX 5700 is just what the marked needed and it will be fascinating to see how Nvidia responds.

RX 5700 has a MSRP of $349, and we'd expect to see UK pricing around the £329 mark. You can see all the options available from Overclockers UK HERE.
Goes toe-to-toe with RTX 2060 SUPER and handily beats RTX 2060.
Clears wins over Nvidia hardware in titles like Battlefield V and Metro Exodus.
Pre-launch price cut makes this the best option at $349.
Vastly improved power efficiency for AMD.
Premium aluminium shroud.
Cons
Reference card is still loud.
Limited gains from overclocking.
No backplate.
No ray tracing support at launch.
KitGuru says: I think a lot of people will be surprised, but AMD's RX 5700 is a fantastic addition to this market segment and that pre-release price cut has really upped the ante. It will be fascinating to see how Nvidia responds, but for now the RX 5700 is the top choice if you're looking for a $349 graphics card.