For our temperature testing, we measure the peak GPU core temperature under load, as well as the GPU temperature with the card idling on the desktop. A reading under load comes from running the 3DMark Fire Strike Ultra stress test 20 times. An idle reading comes after leaving the system on the Windows desktop for 30 minutes.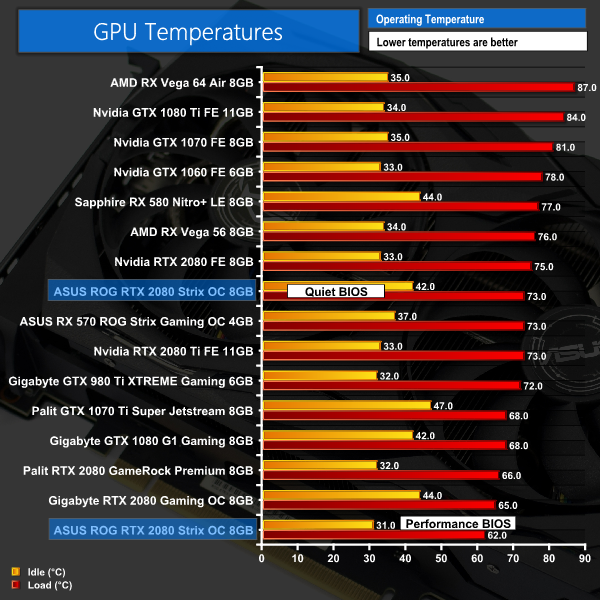 This is where things get very interesting. Starting with the performance BIOS, a peak of 62C on the GPU core is fantastic – it's 3C cooler than the next-best aftermarket RTX 2080, and a huge 13C cooler than the Founders Edition.

Arguably more impressive is that the quiet BIOS peaked at just 73C – still 2C cooler than Founders, and as we will see on the next page, it is very quiet indeed.
Still, moving onto the thermal gun testing, the images above show the card when running the performance BIOS. The side of the card peaked at 68C, and that was an area of the aluminium fin stack.
The rear of the card peaked at 65.4C, which is another top result – this was an area of the PCB that was left exposed. The rest of the backplate is visibly cooler on the image above. In any case, both results are excellent and are nowhere near the thermal limits of the components.