We take our noise measurements with the sound meter positioned 1 foot from the graphics card. I measured the sound floor to be 34 dBA, thus anything above this level can be attributed to the graphics cards. The power supply is passive for the entire power output range we tested all graphics cards in, while all CPU and system fans were disabled.
A reading under load comes from running the 3DMark Fire Strike Ultra stress test 20 times. An idle reading comes after leaving the system on the Windows desktop for 30 minutes.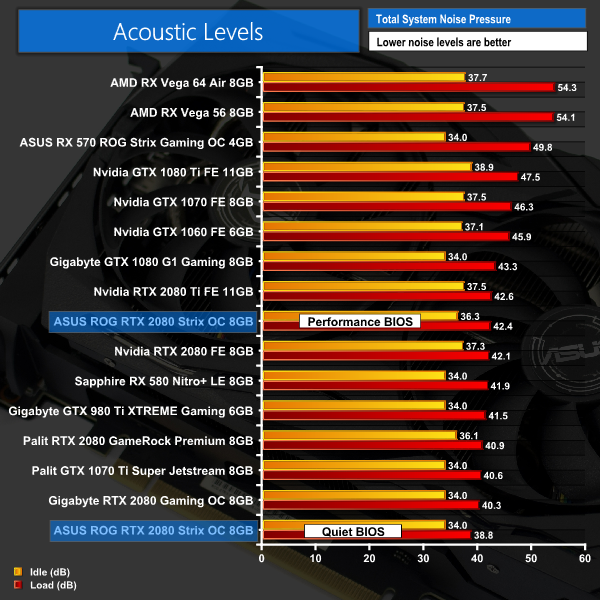 Starting with the performance BIOS result, a peak of 42.4C is certainly not loud. It is marginally louder than the Founders Edition – and thus just over 2dB louder than the Gigabyte RTX 2080 Gaming OC – but you'd still be hard-pressed to hear it once it's running in a case.
The quiet BIOS, however, is on another level – the word 'quiet' is somewhat of an understatement! A peak of 38.8dB is really something incredible – particularly when we consider the card could still run at over 1900MHz, and the GPU temperature only peaked at 73C. To give you an idea of how quiet the Strix is in this mode, I had to put my ear right up against the shroud to hear the fans spin – and this is with the card on an open-air test bench. In a case? You simply wouldn't know it was there.
When comparing the fan speeds of each BIOS, it becomes easy to see why the quiet BIOS is so much quieter. The performance BIOS ran the fans at an average speed of 1676 rpm, whereas the quiet BIOS ran the fans at an average speed of just 1109 rpm – over 500 rpm, or 34%, slower.