There's no denying the fact that the ASUS ROG RTX 2080 Strix OC is a hugely impressive card in basically every way.
Starting with the card itself, it has plenty going for it – it's a good looking card that won't cause any issues if you have a specific colour scheme, while it also has a number of useful extras like 2 on-board fan headers and even an RGB header.
I really like how ASUS has managed the dual-BIOS functionality as well. This is something we like to see on all high-end cards as it gives you a fall back in case you brick one of the BIOS – you can just use the other. With the Strix, though, ASUS has configured one BIOS to run with a performance-oriented fan curve, while the other BIOS is designed to emit as little noise as possible.

As we noted in our acoustic testing, the quiet BIOS really is something – it produced the lowest noise results I have ever seen when testing a graphics card, and it did this while still running cooler and faster than Nvidia's Founders Edition card. In fact, the Strix cooler itself is so good, the quiet BIOS still outperforms most aftermarket RTX 2080 cards.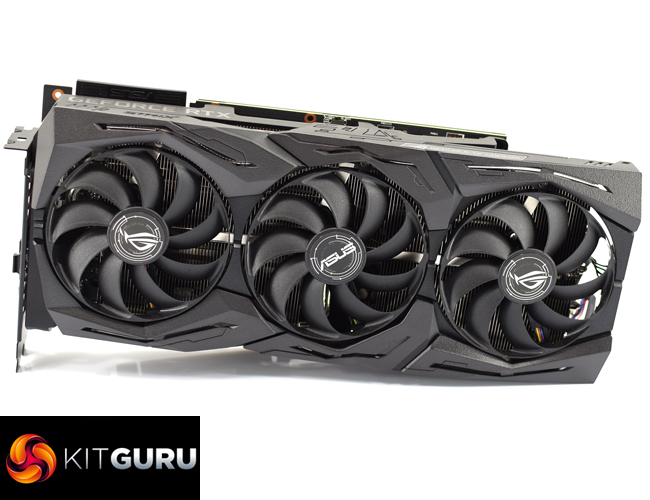 With our testing of the performance BIOS, though, we saw the best results yet from an aftermarket RTX 2080 – the 1890MHz boost clock, once OC mode has been enabled in GPU Tweak II, means the Strix consistently outperforms its rivals.
We do have to say the performance differences are still not big – the largest performance difference between the Strix and the Founders Edition was just 1.6FPS, and that was playing Middle Earth: Shadow of War at 4K.
Our Strix did overclock really well, however, as it recorded a stable frequency of 2074MHz. This is 44MHz faster than what our overclocked Founders card achieved, and over 100MHz faster than the frequency registered by the Gigabyte RTX 2080 Gaming OC.
In sum, it's very hard not to be impressed with this card from ASUS ROG. It's cool, very quiet and still the fastest RTX 2080 we've tested – not to mention it comes with a very well-rounded feature set as well.
The thing is, we just can't recommend paying £999 for an RTX 2080, no matter how good it is. Not only is that £250 more than the Founders Edition – for no more than an extra 2FPS at 4K resolution – but we can't help but think anyone spending a cool grand on a single graphics card should definitely spend an extra £100 – just 10% more – and get the RTX 2080 Ti with all the extra power that it brings.
So our conclusion is this – the ASUS ROG RTX 2080 Strix OC is the best aftermarket RTX 2080 card we've tested so far. Undoubtedly. But for £250 more than the Founders RTX 2080, and only £100 less than the RTX 2080 Ti, its price puts it in an impossible position.

If you do want to spend £999.95 on this beast, though, it is available from Overclockers UK HERE
Pros
Good looking.
Excellent dual-BIOS functionality.
Quiet BIOS is essentially silent.
Fastest RTX 2080 yet.
Overclocked very well.
Extras features including fan headers, RGB header and RGB power switch.
Cons
Just too expensive for an RTX 2080.
Ugly multi-colour fan cable on show.
KitGuru says: It's the best RTX 2080 we've tested so far – but pricing is doing this card absolutely no favours.