We take our noise measurements with the sound meter positioned 1 foot from the graphics card. I measured the sound floor to be 34 dBA, thus anything above this level can be attributed to the graphics cards. The power supply is passive for the entire power output range we tested all graphics cards in, while all CPU and system fans were disabled.
A reading under load comes from running the 3DMark Fire Strike Ultra stress test 20 times. An idle reading comes after leaving the system on the Windows desktop for 30 minutes.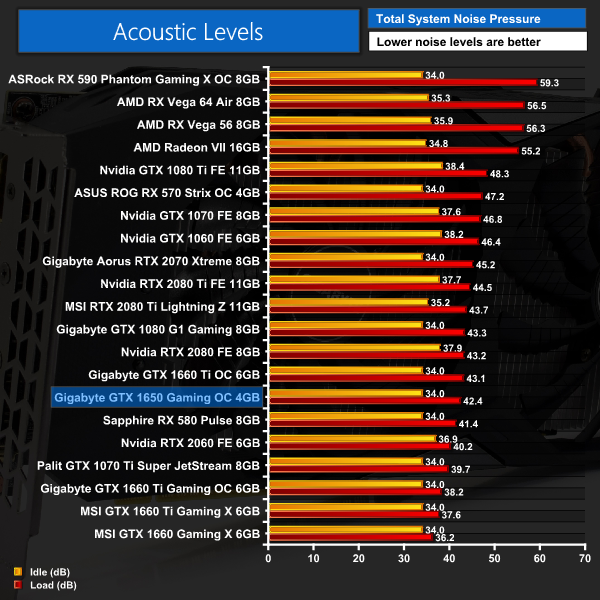 What the temperature charts don't tell you, however, is how loud the card is running to achieve its low peak temperature of 59C. Now, to be clear, the 42dB of noise produced by this card is still a good result – it is still audible, but it is far from the loudest card I've heard.
The way I see it, though, there is just no need for the Gaming OC 4G's two fans to spin as fast as they do. Under load, fan speed actually ramped up to 77% – or 1725RPM. Considering the GPU is not even reaching 60C, I definitely feel the default fan curve could do with some tweaking. Anything under 70C is going to be an impressive temperature, and if the card could achieve that while audibly reducing its fan speed, that would make for a better balance. At the moment, the fans are spinning pretty fast when I don't think they really need to.