RTX 3080 was heralded by many as an excellent value graphics card, delivering performance gains of around 30% compared to the RTX 2080 Ti, despite being several hundred pounds cheaper. With the RTX 3090, Nvidia isn't chasing value for money, but the overall performance crown.
And that is exactly what it has achieved. MSI's RTX 3090 Gaming X Trio, for instance, is 14% faster than the RTX 3080 and 50% faster than the RTX 2080 Ti, when tested at 4K. No other GPU even comes close to matching its performance.
At this point, many of you reading this may be thinking something along the line of 'well, yes, it is 14% faster than an RTX 3080 – but it is also over double the price, so surely it is terrible value?' And you would be 100% correct in thinking that. The thing is, Nvidia knows that too – RTX 3090 is simply not about value for money, and if that is something you prioritise when buying a new graphics card, don't buy a 3090.

Rather, RTX 3090 is purely aimed at those who don't give a toss about value. It's for the gamers who want the fastest card going, and they will pay whatever price to claim those bragging rights. In this case of the MSI Gaming X Trio, the cost of this GPU's unrivalled performance comes to £1530 here in the UK.
Alongside gamers, I can also see professionals or creators looking past its steep asking price. If the increased render performance of this GPU could end up saving you an hour, two hours per week, for many that initial cost will pay for itself with increased productivity, especially if you need as much VRAM as you can get.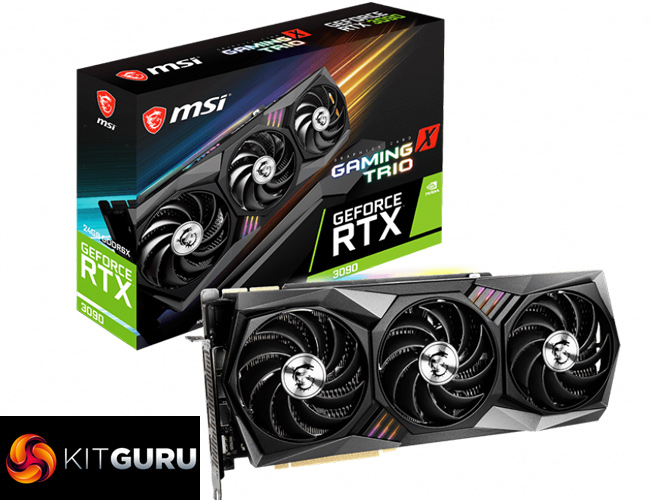 In terms of this specific MSI RTX 3090 Gaming X Trio card, MSI has done a good job all-round. It is still very much focused on low noise levels, and as a result we did see temperatures hitting up to 76C. It's not a bad result at all, but I would imagine many users will want to bump up the fan speed a little, to bring those temperatures down. It is a very quiet card, however, producing just 35dB of noise, making it just fractionally louder than the RTX 3080 Gaming X Trio we reviewed last week.
Power draw has been increased too, with this model coming equipped with a 370W power target. As far as I can tell, this actually makes it the most power hungry single-GPU graphics card that KitGuru has ever tested. Of course, it is also the fastest card we have ever tested, so I can't imagine anybody spending £1500 for this GPU will be too concerned.
Despite the increase in power, we couldn't really get much more out of the card when overclocking. Gears 5 saw a 5% boost to frame rates, but that was a best case scenario – in other games, the FPS boost was a little as 2%. Just like the RTX 3080, Nvidia has definitely delivered the RTX 3090 GPU right on the edge of its performance limit.
And that really is it for the RTX 3090. To re-iterate, this GPU is really designed for a very niche market segment – those who want the fastest card going, and don't care how much it will cost them. The vast majority of gamers will get better value from an RTX 3080 or RTX 3070 when it launches next month, but for the 1% who are simply not bothered about price, it is the RTX 3090 which is the fastest card going.

The MSI RTX 3090 Gaming X Trio has a UK MSRP of £1529.99. We found it on Overclockers UK HERE.
Discuss on our Facebook page HERE.
Pros
Fastest GeForce GPU out there.
MSI Gaming X Trio is very quiet.
Good looking card.
Cons
Only for the cash-rich audience who simply do not care about value for money.
Highest power draw of any GPU I've tested.
KitGuru says: I'd love to know how many of our readers will buy the RTX 3090 – for many, it simply makes no sense. For those who simply want the best of the best, right now you can't beat the RTX 3090.