These sound results are not overly precise as I work in an area with high ambient noise levels. As such, don't take these results as gospel truth, but more as a general indication of overall noise levels.
We take our measurements with the decibel meter on the top and middle section of the case, overhanging the side panel (power supply side, not motherboard tray side) by exactly 1 inch to avoid any airflow pressure coming from the exhausting AIO cooler.
I measured the sound floor to be 38 dBA, thus anything above this level can be attributed to the graphics cards. The power supply is passive for the entire power output range we tested all graphics cards in and all CPU and system fans have a fixed fan speed (25%) completely isolating them from any changes in temperature across the system.

Noise levels were measured after 5 minutes of load under three scenario: Furmark, Fire Strike and desktop idle in sequential order with 2 minutes downtime in between each test.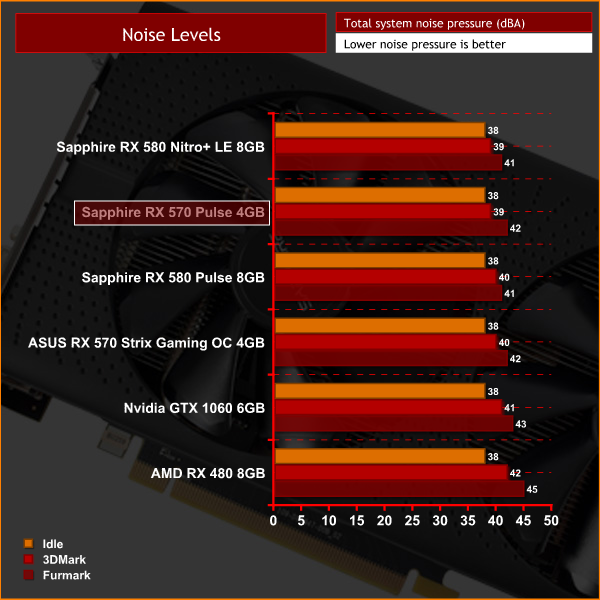 The Pulse 570 is one of the quietest cards on-test today, thanks to its dual 95-mm fans and lesser clock speed. Compared to the reference RX 480, the different is night and day.
It is also silent when idling as the card has a passive mode, and I did not see the fans spin up past 39% under load (according to GPU-Z).