The Sapphire RX 570 Pulse ships in a dark box, with no product photo on the front. However, there is a EKG 'pulse' graph which obviously ties into the series name.
On the back of the box, we get a list of  the card's features as well as a first look at the product.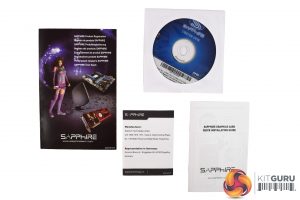 The bundle is fairly typical as there is a driver disk, a quick-start guide, product registration information and a small manufacturer card.
Moving on to the card itself, it certainly looks like other Sapphire cards we have seen recently – including the RX 580 Nitro+ Limited Edition. However, it is actually a bit smaller, measuring in at 230 x 125 x 40mm. Accordingly, this should fit in the vast majority of cases.
The card still uses a pair of 95mm fans, though, enclosed within a black plastic shroud. The shroud is also 'dotted', something we have seen on other Sapphire cards as well.
The Sapphire logo is embossed onto the side of the plastic shroud, but it is definitely worth noting that this logo is not illuminated by LEDs – that is one of the cost-cutting measures Sapphire has taken to keep the Pulse cards a bit cheaper.
On the other side we can see two 6mm heatpipes above the PCIe connector but the rest of the cooling apparatus remains hidden.
Taking the card apart reveals the very modest cooling solution. Sapphire has used just 2x6mm heatpipes for the Pulse RX 570 card, while there is also a standard fin array and copper contact base. Small thermals pads are also in-place over the VRMs and VRAM chips.
Flipping the card over, we get another look at the Sapphire logo (the right way up this time) as well as a look at the backplate. It is definitely good to see a backplate included with this RX 570, as many manufacturers do not deem RX 570 cards worthy of a backplate – ASUS' Strix card, for instance, does not come with a backplate.
The backplate itself uses a silver, grey, black and red colour-scheme which I do think looks quite smart and snazzy. There is also more of the pulse styling here. However, I do wonder if this backplate design may limit the card's appeal, as it may well clash with a system's colour scheme. Something slightly less eye-catching (perhaps just black and white) would have ensured greater compatibility with other colour schemes.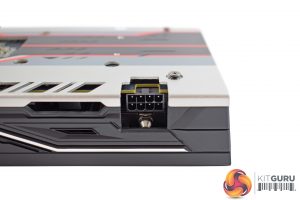 At the end of the card we find a single 8-pin PCIe power connector, and Sapphire accordingly lists the card's power consumption as less than 180W.
At the end of the card we get a glimpse of the heat fins used to keep the core cool.
At the other end (or the front), the display outputs are as follows: 1x DVI, 2x HDMI and 2x DisplayPort.