We first measure system-wide power draw from the wall while the card is sat idling at the Windows 10 desktop for 5 minutes. Gaming power draw is recorded by running the Deus Ex benchmark at 4K. As a maximum stress test, Fire Strike Ultra Stress Test is run 5 consecutive times and the cards' power draws are recorded.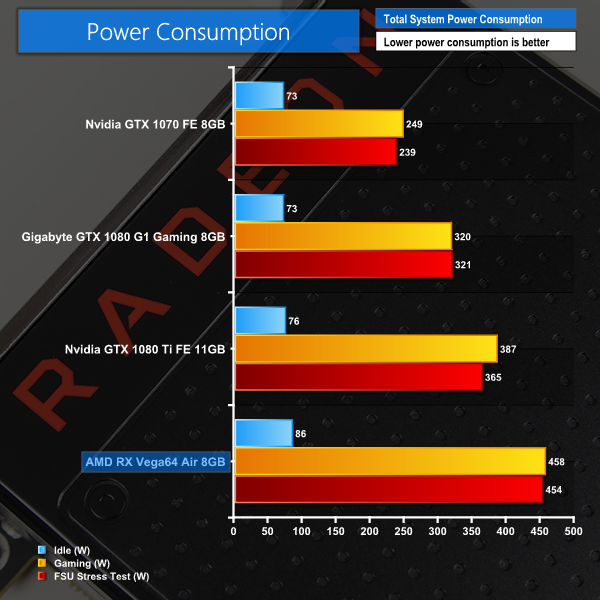 Power consumption is clearly not a strength for AMD's RX Vega64 Air card. Using the performance-biased 'Turbo' mode in WattMan, the system with RX Vega64 Air installed will happily draw more than 450W from the wall. Even the significantly faster GTX 1080 Ti FE draws noticeably less power when gaming or heavily stressed.

At the higher performance levels that dictate the use of AMD's 'Turbo' power profile, efficiency for RX Vega64 is simply not in the same league as Nvidia competing or even faster options. The factory-overclocked GTX 1080 is faster than RX Vega64 Air by noticeable margins in most of our test cases. Yet AMD's card demands over 130W (41%) more power when gaming at 4K. You could probably, just about, squeeze a second GTX 1070 FE into the system in SLI while drawing a similar amount of power to AMD's single RX Vega64 air-cooled card.
Unfortunately, the very limited amount of time allocated to us for the review meant that we were unable to test using the 'Balanced' or 'Power Save' power profiles before the deadline.