Noise output of the graphics card is measured using the fan speed percentage associated with each of the temperature recordings displayed on the previous page. In order to focus solely on the noise output by the graphics card in question, we disconnect all fans from the test system so that the only moving parts are relating to the graphics card.
The NZXT Phantom 630's side panel is removed in order for us to focus specifically on the graphics card's noise emissions. We also place the acoustic measurement equipment very close to the graphics card (around 10 cm away from it) in order to better detect noise differences between each graphics card. This is also a scenario that will be similar to a user who has their system sat on the desk directly next to where they are sitting.

The background noise level sits around 37 dBA without the test computer running.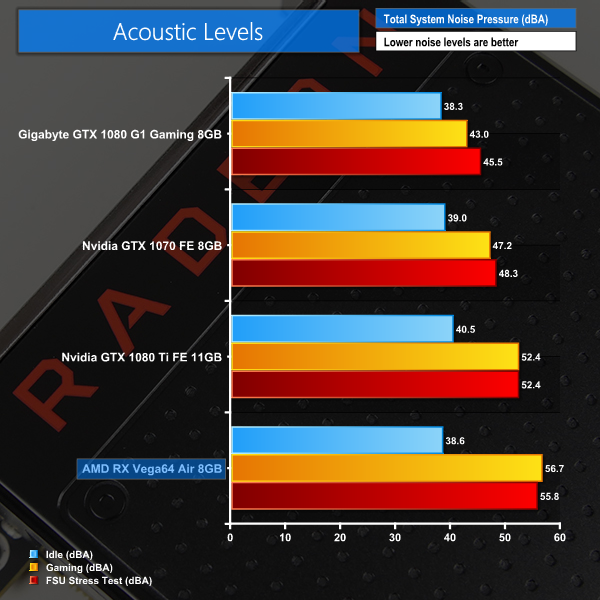 High power draw translates into high temperatures which then translates into high noise output. Power is the key driving factor and the fact the RX Vega64 is so inefficient in its performance-orientated 'Turbo' mode makes it hard for the other two metrics to look positive.
At idle, the AMD cooler's fan spins down to 13% (around 650 RPM) and is very quiet indeed (basically inaudible). However, the vast amount of thermal energy that the cooler is tasked with handling forces fan speed to 2400 RPM (48%, as dictated by AMD) very quickly. We did not notice any coil whine with our sample.
While I complained at the fact that thermal throttling occurs with the fan having 52% left in its speed range, the acoustic output justifies AMD's decision. 2400 RPM fan speed from RX Vega64 is loud and unpleasant when sat next to the system for a gaming session. Of course, the 'put on headphones' argument is perfectly justifiable.
As a side note, I was testing the overclocking of this card in the early hours of a Monday morning with both bedrooms next to my office occupies with sleeping family members. I pushed the fan speed up to around 66% but absolutely would not go any higher for fear of waking people up. To me, that spoke volumes (excuse the pun) about AMD's reference cooler when tasked with RX Vega64's 'Turbo' power mode.
Personally, I am not somebody who is offended by the most minor of noise output from their system, though I do have my limits. I would, without hesitation, wait for a custom-cooled RX Vega64 card from board partners to become available before making any purchasing decision.