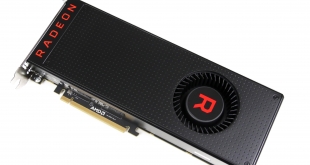 In what has seemed like an eternal wait given the 2 years since AMD released its R9 Fury X enthusiast graphics card, the market has grown hungrier and hungrier for competition from the Radeon vendor while Nvidia has been racking up performance crowns and high-end GPU sales. AMD's new Radeon RX Vega series of graphics cards is upon with the aim of creating competition in the high-end space that Nvidia has called its own for many, many months.

Today we are examining the $499/£449 Radeon RX Vega64 graphics card that uses AMD's flagship GPU. The air-cooled variant of the 64 Compute Unit (CU) sits second-fiddle in AMD's product hierarchy to the liquid-cooled variant of the same GPU. AMD has put Nvidia's roughly £500 GTX 1080 firmly in the sights of Vega64.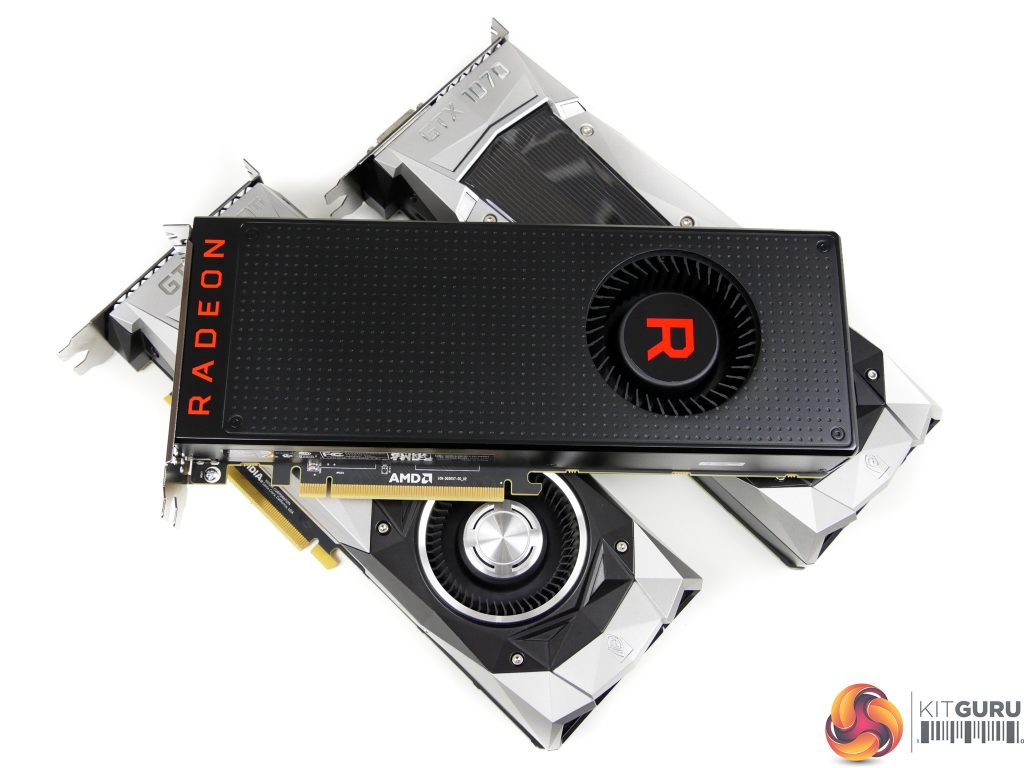 Successive leaks and the launch of AMD's prosumer Vega Frontier Edition back in June have made almost all Vega details a known entity by this point. A very tight review schedule means that will encourage you to read our previous content regarding the specific features for Radeon RX Vega, including the 'pack' bundles in which the cards are also being sold (HERE and HERE).
In short, AMD is aiming to make Vega64 an appealing option to high-refresh rate 1080P and 1440P gamers who also want to leverage the widened desirable FPS range of FreeSync monitors. Do not expect Vega to give borderline single-GPU 4K60 performance that requires the use of Nvidia's GTX 1080 Ti or Titan Xp in AAA games. That's not on the cards (excuse the pun) for Vega unless image quality is reduced significantly at 4K.
GPU
AMD RX Vega64 Liquid

AMD RX Vega64 Air

AMD RX Vega56
Nvidia GTX 1070
Nvidia GTX 1080
Nvidia GTX 1080 Ti
GPU Name
Vega 10
Vega 10
Vega 10
GP104
GP104
GP102
GPU Cores
4096
4096
3584
1920
2560
3584
Base Clock
1406MHz
1247MHz
1156MHz
1506 MHz
1607 MHz
1480 MHz
GPU Boost Clock
1677MHz (Avg) 1750MHz (Max)
1546MHz (Avg) 1630MHz (Max)
1471MHz (Avg) 1590MHz (Max)
1683 MHz
1733 MHz
1582 MHz
Total Video Memory
8GB HBM2
8GB HBM2
8GB HBM2
8GB GDDR5
8GB GDDR5X
11GB GDDR5X
Texture Units
256
256
256
120
160
224
Texture fill rate
429.3 GT/s
395.8 GT/s
330.0 GT/s
180.7 GT/s
257.1 GT/s
331.5 GT/s
Memory Bit Rate

1.89 Gbps effective
1.89 Gbps effective
1.60 Gbps effective
8 Gbps effective
10 Gbps effective
11 Gbps effective
Memory Bandwidth
484 GB/s
484 GB/s
410 GB/s
256.3 GB/s
320 GB/s
484 GB/s
Bus Width
 2048-bit
2048-bit
2048-bit
256-bit
256-bit
352-bit
ROPs
64
64
64
64
64
88
Manufacturing Process
 14nm
14nm
14nm
16nm
16nm
16nm
TDP
345 W
295 W
210 W
150 W
180 W
250 W
Power Connector(s)
2x 8-pin
2x 8-pin
2x 8-pin
1x 8-pin
1x 8-pin
1x 6-pin + 1×8-pin
Launch MSRP
$699 (Radeon Aqua Pack)
$499
$399
$449 (FE)
$699 (FE)
 $699
UK Starting Price (Aug 2017)

£639 Suggested (Radeon Aqua Pack)

£670+ Current

£450 Suggested

£550+ Current

Estimated Approx. £360
Approx. £350-380 (limited stock)
Approx. £490
Approx. £670
AMD equips Vega with its potential 'wildcard' compared to Nvidia – 8GB of HBM2 VRAM clocked at 1.89Gbps effective that sits on a massive 2048-bit to give 484GBps of memory bandwidth. We have seen HBM used in the past on AMD's Fiji GPU but the 4GB capacity limit was a severe drawback for an enthusiast card in today's high-resolution market. HBM2 addresses the capacity concern of version 1 by making 8GB capacities on the Vega GPUs a possibility. Two stacks sit next to the GPU on the interposer to create a streamlined single package for the GPU and 8GB of HBM2.
You may hear this memory referred to as a 'High-Bandwidth Cache (HBC)', alongside the 'High-Bandwidth Cache Controller (HBCC)'. AMD's use of the word 'cache' is a reference to the card's ability to access system RAM to make a wider pool of memory available to the GPU. So the 'cache' term bears no significant reference to the 8GB of dedicated HBM2 VRAM in itself. If, for example, you have a large data set that fills the 8GB of dedicated HBM2 memory, a quantity of system memory can be allocated to the GPU to create a larger available pool.
Looking at raw horsepower, AMD's RX Vega64 Air is built around a 486mm2 14nm manufactured 'Vega 10' GPU consisting of 12.5 Billion transistors. 64 Next-Gen CUs create 4096 stream processors that can clock up to 1630MHz on the air card to give peak single-precision performance of around 13 TFLOPS. Half precision performance sits more in the mid-20s TFLOPS range, allowing (theoretically) higher performance in certain scenarios for upcoming games that have been touted to support FP16 Rapid Pack Math, such as Wolfenstein 2 and Far Cry 5.

AMD makes different power states available to RX Vega64 in its WattMan software. These different modes are easily selectable with just a few clicks. AMD's goal here seems to be covering both bases with Vega64. There is a power saving mode to allow the card to operate more efficiently and quietly at a TDP and frequency where the GPU sits more favourably on its efficiency curve. Then there's the 'balls-to-the-wall' Turbo mode that throws power draw and noise output cares out of the window by allowing the GPU to clock up to a point that is beyond its smart efficiency range, all in the name of performance.
Kudos to AMD for including adjustable modes. These give extra control to the gamer and are a feature that is definitely worthwhile in an easily-accessible software setting location. However, some enthusiasts may look at this as acceptance by AMD that the vendor cannot compete with Nvidia's efficiency while offering the same performance levels, hence the need for a 'Turbo' mode that significantly increases power available to the GPU.
Power efficiency is an area where AMD still lags behind Nvidia (based on the assumption that RX Vega64 will not offer GTX 1080 Ti-beating performance). The air-cooled card is rated at a hefty 295W while the liquid-cooled version ups that to 345W. Vega64 requires dual 8-pin power connectors which means that it will not feature the PCI-e logo. RX Vega64 Air's box suggests a 750W PSU whereas 500W is Nvidia's recommendation for the GTX 1080.
Speaking of boost clocks, the Vega64 Air is rated at up to 1630MHz but, spoiler alert, it rarely stays at that speed. Unlike Nvidia's GPUs that state a boost clock and spend most of their time operating higher than it, AMD's higher quoted boost clock is the maximum frequency for the GPU.The other figure you may hear (1546MHz in the case of Vega64 Air) is the average boost clock, as claimed by AMD, based on several workloads.
We saw 1630MHz being hit for short periods of time, primarily in less-demanding use cases (1080P gaming), before throttling of a thermal or power nature reduced the figure to around 1546MHz or 1401MHz. AMD's 1630MHz maximum quote and 1546MHz average quote seem fair but further testing will confirm that.
Be sure to check out our sponsors store EKWB here