Grand Theft Auto V is an action-adventure game played from either a first-person or third-person view. Players complete missions—linear scenarios with set objectives—to progress through the story. Outside of missions, players may freely roam the open world.
Composed of the San Andreas open countryside area and the fictional city of Los Santos, the world is much larger in area than earlier entries in the series. It may be fully explored after the game's beginning without restriction, although story progress unlocks more gameplay content.
We use the Ultra quality settings (or the highest alternative – generally Very High or High – when Ultra is unavailable). MSAA is set to 2x for 1080p and 1440p and is disabled for 4K. The Advanced Graphics options are all set to their maximum levels.

At 1080p the game suggests 3469MB of VRAM usage. At 1440p that number increases to 3764MB. At 4K the video memory usage is quoted as 4171MB.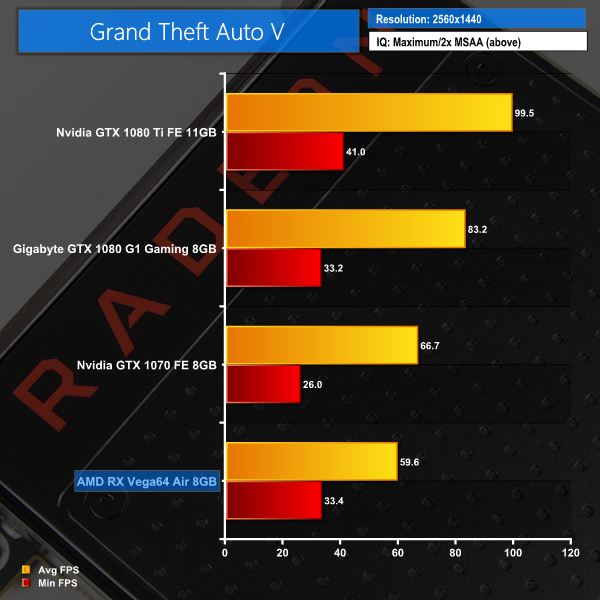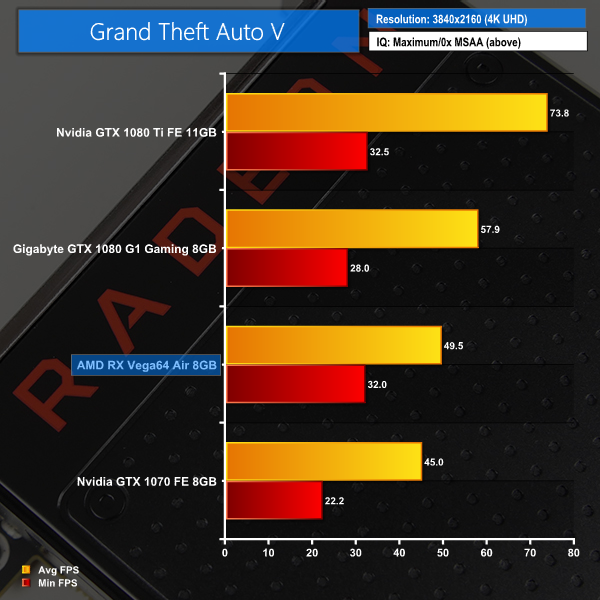 We must start the GTA V analysis by highlighting numerous issues experienced with the game throughout our testing. We suffered complete system lock-ups any time we tried to launch the game at 1080P, so much so that we had to launch into Safe Mode, switch the resolution to 1440P or 4K, and then re-launch the game. Bugs like this would also highlight the strong possibility of FPS performance issues in the game.
And perhaps that previous point is a valid explanation for the RX Vega64 results. Something looks to be holding back RX Vega64 performance at 1080P and 1440P as the card is outperformed even by the GTX 1070. That point is reiterated by the fact that AMD's offering loses significantly less performance as the resolution is increased to 4K.
While RX Vega64 Air is, currently (and that is important as this game looks to be suffering driver issues), a poor choice in GTA V compared to Nvidia offerings for 1440P and 1080P gamers, it does offer good performance at both resolutions. An average frame rate of 60 FPS at 1440P, with minimums kept above 30 FPS, is a solid result in isolation. However, the cheaper GTX 1070 FE offers higher average performance at the expense of sub-30 FPS minimums.
Looking at the 4K data, RX Vega64 starts to look like a competent offering for GTA V gamers. The AMD card hits an average close to 50 FPS and keeps minimums above 30 FPS. That's a good gaming range for GTA V when paired with a 4K FreeSync monitor. However, an overclocked GTX 1080 is still the better solution and justifies its higher price tag with close to 4K60 performance (at the expense of lower minimum FPS versus AMD).