The Witcher 3: Wild Hunt (Polish: Wiedźmin 3: Dziki Gon) is an action role-playing video game set in an open world environment, developed by Polish video game developer CD Projekt RED. The Witcher 3: Wild Hunt concludes the story of the witcher Geralt of Rivia, the series' protagonist, whose story to date has been covered in the previous versions. Continuing from The Witcher 2, the ones who sought to use Geralt are now gone. Geralt seeks to move on with his own life, embarking on a new and personal mission whilst the world order itself is coming to a change. Geralt's new mission comes in dark times as the mysterious and otherworldly army known as the Wild Hunt invades the Northern Kingdoms, leaving only blood soaked earth and fiery ruin in its wake; and it seems the Witcher is the key to stopping their cataclysmic rampage. (Wikipedia).


We select a 3840×2160 (Ultra HD 4K) resolution with postprocessing at 'HIGH' and graphics at 'ULTRA', as shown above.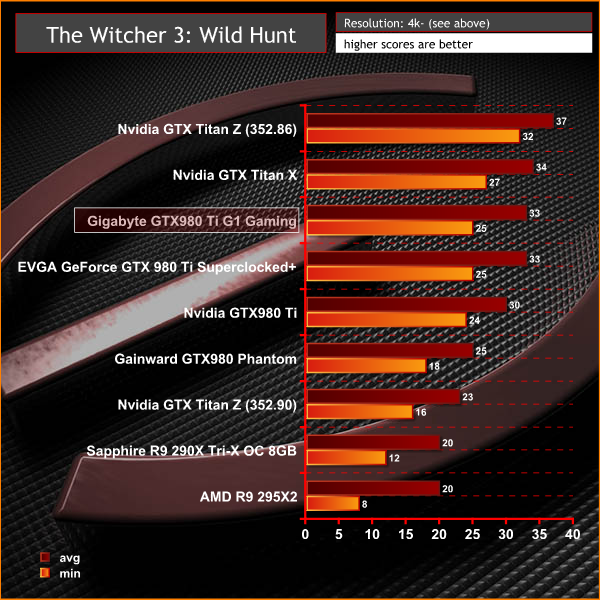 At 4K this game is best enjoyed with two Nvidia graphics cards. The single Gigabyte GTX980 Ti G1 Gaming delivers a good experience, but the frame rate drops a little lower than many people would want. Disabling Nvidia Hairworks and dropping image quality a little would help increase minimum frame rates.