The GTX980Ti, for the time being is leading the way in regards to outright performance, particularly when overclocked. The Gigabyte GTX980 Ti G1 Gaming is the fastest sample we have received from an Nvidia partner, to date.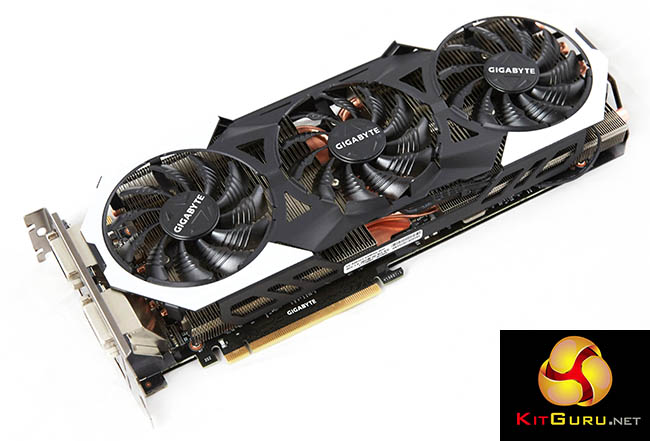 I have reviewed some great high end graphics cards lately, notably the EVGA GTX980 Ti Superclocked+. Out of the box the Gigabyte GTX980 Ti G1 Gaming is clocked a little faster than the EVGA counterpart, and both manually overclock to very similar levels via software tools. We are seeing closely matched maximum stable speeds from all the GTX980 Ti cards we have tested in the last month.
While performance between all GTX980 Ti cards is closely matched, the Gigabyte GTX980 Ti G1 Gaming comes out top in regards to cooling performance. The custom cooler implementation on the G1 Gaming is extremely noteworthy. When gaming, the core runs 23c cooler than the Nvidia GTX980 Ti reference card, which is a remarkable achievement.
System builders with windowed panels will undoubtedly appreciate the option to change the onboard lighting colours to match their coordinated scheme. Gigabyte have opted to use a backplate, unlike the reference card, which helps reduce card hot spots on the rear of the PCB.



You can buy from Overclockers UK from £629.99 inc vat HERE. It slots in at the upper price point for GTX980 Ti partner cards, but the formidable cooler design justifies the small premium.

Discuss on our Facebook page, over HERE.
Pros:
noticeably faster than the GTX980Ti reference card.
built for 4K gaming.
quality backplate.
23c cooler than reference design.
additional core clock head room available via software.
no coil whine.
Cons:
Titan X is only £170 more expensive and has 12GB of GDDR5 memory.
GDDR5 memory isn't overclocked.
KitGuru says: The Gigabyte GTX980 Ti G1 Gaming is equipped with one of the best cooling solutions we have tested to date. You pay a small premium for this board, but if you demand maximum cooling performance, it is a MUST HAVE.