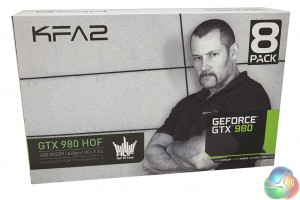 A picture of Ian '8Pack' Parry adorns the front of the box. No image of the card on the box, sadly.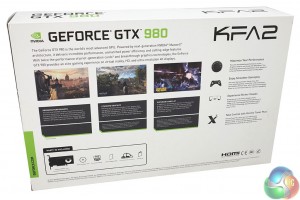 The back of the box contains some generic Nvidia information.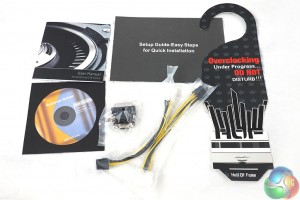 Inside the box are some power and video adapter cables, a software disc, and some literature. KFA2 also include a 'Do Not Disturb' banner, to hang over your door.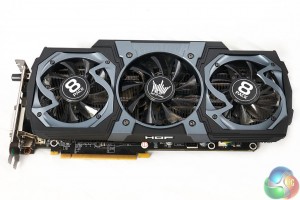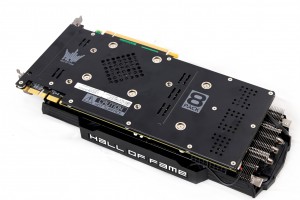 We like the appearance of the KFA2 GeForce GTX 980 '8Pack Edition', it is a two tone affair with three fans (2x 80mm  + 1x 90mm fan) taking up the full width of the PCB. Thankfully they have fitted a branded '8Pack' backplate to the PCB, which will help reduce temperatures and protect sensitive components.
The card measures 308mm x 129.1mm x 49mm with the bracket.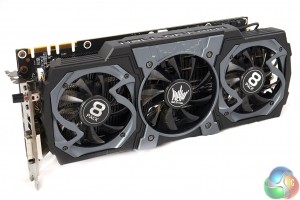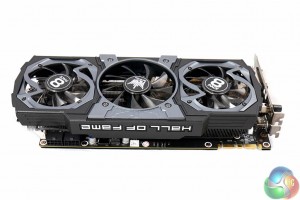 The card is heavy and takes up a full two slots. The 'Hall Of Fame' wording glows when the card is powered on.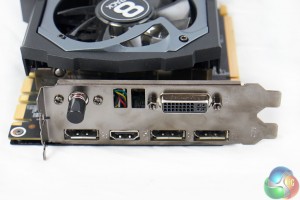 The I/O plate has a single DVI connector on the back (DVI-D), alongside three full sized DisplayPort connectors and a single HDMI connector. This HDMI port will handle 4K resolutions at up to 60hz. KFA2 earn bonus points for using full sized connectors – no silly adapters needed. Top left is a long button style 'knob' – included for benching. When it is pressed in the fans spin to full speed and the power limit is maxed out. No need to set anything in software!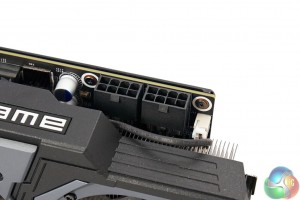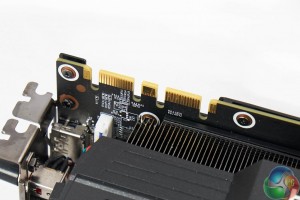 The power delivery system has been increased over the reference design. This card takes power from two 8 PIN connectors. It is obviously SLI capable.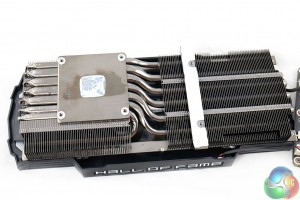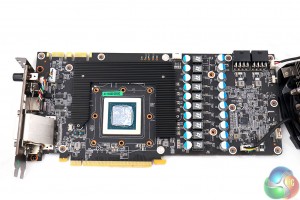 This is a substantial cooling system, comprising 7 Nickel plated copper heatpipes, 6 of which run the full length of the PCB in parallel. Four are 8mm heat pipes and three are 6mm heat pipes.
It is an 8 phase GPU + 2 phase memory power design. It uses a Next generation IR3595 Digital PWM controller providing 2X switching frequency vs. previous generation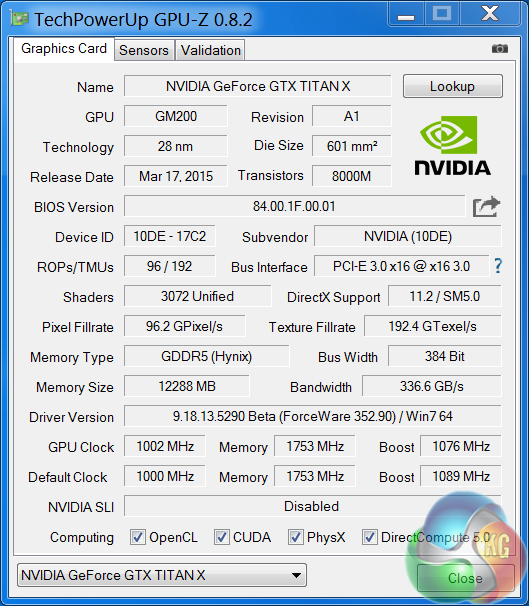 An overview of the hardware in GPU-Z. The GTX980 is built on the 28nm process. It has 2,048 Cuda Cores, 64 ROP's and 128 Texture units. The 4GB of Samsung GDDR5 is running at 1,753mhz (7 Gbps effective) and is connected via a 256bit memory interface. The core clock speed has been increased by KFA2 to 1,304mhz with a boost speed set at 1,418mhz.