If you are in the market for a 4K monitor or have just bought one then a new graphics card update is likely to be on the shortlist. As our results show – a single, overclocked GTX980 can deliver playable frame rates at 4K if you are willing to deal with some image quality reductions, or the game engine running between 30 and 40 frames per second.
Two GTX980's in SLi deliver a good result at 4K and while expensive, they are considerably less so than two Nvidia Titan X. Granted you have to live with one third of the memory count (4GB rather than 12GB) – but two Titan X GPU's are around £1,800, while two GTX980's can be bought for £900.
The only concern with the GTX980 is that future game engines at 4K are likely to demand more than 4GB of memory – we have already seen Grand Theft Auto V demanding 12GB of memory at very high image quality settings – making it ideal playing ground for the Titan X. As we said before however, the design and release of the Titan X does open the door for a 6GB 'GTX980 ti' at a later date.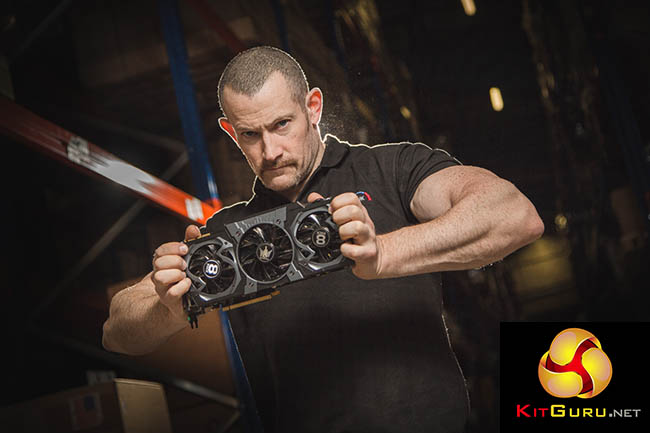 The KFA2 GeForce GTX 980 '8Pack Edition' is a no expenses spared custom design and I have to say, the results are genuinely tantalising. This is the most powerful GTX980 we have tested and it runs surprisingly quiet too with the fans running on automatic settings.
There is plenty of overclocking headroom available – we managed to increase boost speed to 1,518mhz, and the GDDR5 memory was stable to 2,060mhz – all with the standard air cooling. Adding a watercooling block to this card would likely reap even further gains.



Overclockers UK are stocking the KFA2 GeForce GTX 980 '8Pack Edition' from today, for £589.99 inc vat. There will be strictly limited stocks due to the strict screening process and the low volume of cards that will meet the grade.
Discuss on our Facebook page, over HERE.
Pros:
very high standards of build.
quiet design due to the high grade triple fan configuration.
fastest GTX980 we have tested
memory hit 2,060mhz (8.24Gbps effective)
1518mhz boost speed.
8 phase GPU + 2 phase memory power
backplate helps remove hotspots.
button on I/O plate is handy for overclocking.
no coil whine.
Cons:
expensive.
4GB of GDDR5 doesn't offer much headroom at 4K.
Kitguru says: The KFA2 GTX980 '8Pack Edition' is the finest GTX980 we have tested, with plenty of headroom for overclocking. It is built to the highest standards as well, and includes a backplate. Memory will hit 2,000mhz+ easily.