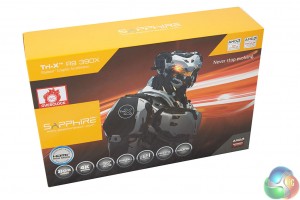 Sapphire have been using robotic box artwork now for some time. Don't mess with this guy, he will rip your arms off.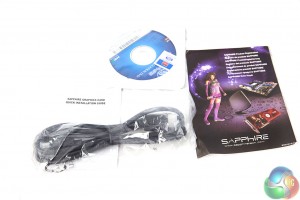 Accessories include an HDMI cable, a software disc and some literature on the product.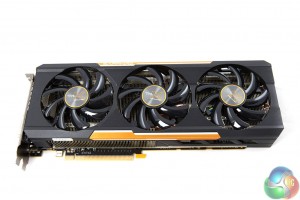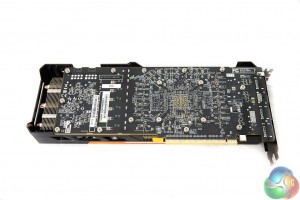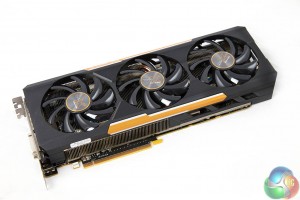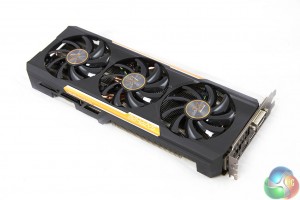 The Sapphire R9 390X Tri-X is built on a black PCB and the cooler is also black, with some yellow accenting on the sides. The cooler overhangs the end of the PCB a little. I was a little saddened to notice that Sapphire haven't decided to fit this particular card with a backplate – as is becoming more commonplace now on high end solutions. While we like a backplate to help deal with hot spots on the rear of the PCB, Sapphire say that this card has a fully sized heatsink which is screwed into the PCB in many places – to make it more rigid.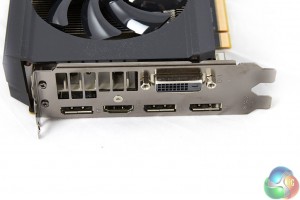 The card is equipped with a dual link DVI-D connector, three DisplayPort 1.2a connectors and a single HDMI 1.4a connector. Sadly, no support for the new HDMI 2.0 standard – which means you can't get 4K 60hz from this connector. This is something I do depend on myself as I use a 4K Sony TV for my gaming (which has only HDMI ports).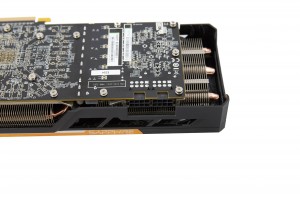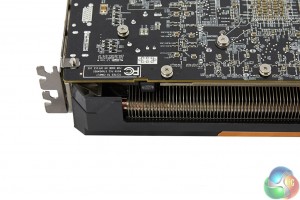 The card takes power from two eight pin PCIe connectors. It has bridge-less Crossfire support, exactly like the 290 and 290X.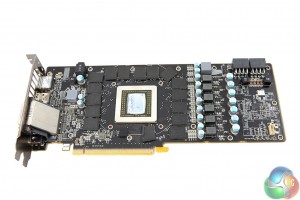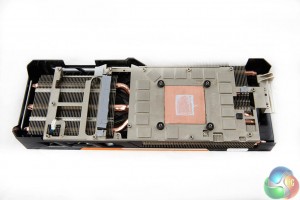 Due to all the screws, it takes quite some time to remove the cooler. We can see the GDDR5 memory is directly cooled from the heatsink above. Thick heatpipes expel heat from the copper heatpipe, across a large rack of aluminum fins which span the full width of the PCB.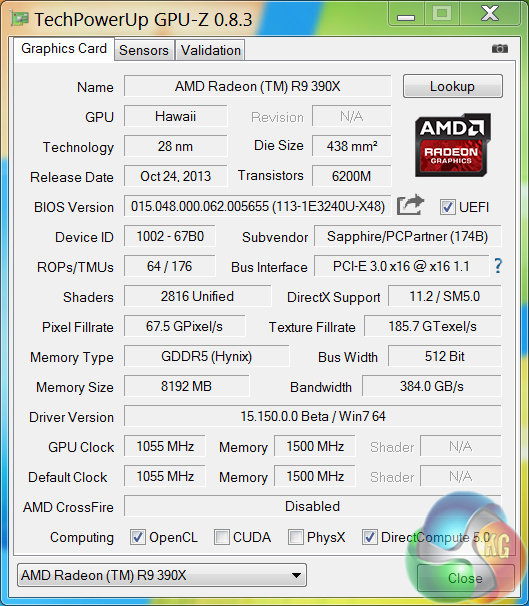 An overview of the Sapphire R9 390X. It is built on the 28nm process, has 64 ROPs, 176 Texture units, and 2816 unifed shaders. The core is clocked at a rather modest 1,055mhz, only 5mhz over the reference design – I was expecting 1,100mhz. The 8GB of GDDR5 memory runs at 1,500mhz, or 6Gbps effective – an improvement over the R9 290X, which on the reference design was set at 5Gbps effective.