Automatic CPU Overclocking:
ASRock includes well-tuned overclocking pre-sets. The 4.4GHz function (1.31V VCore) worked correctly, as did the 4.5GHz profile. ASRock applies 1.36V VCore for the 4.5GHz preset, which is a little higher than we like for 24/7 usage, but the system was stable.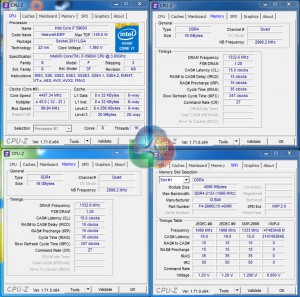 Load CPU temperatures were tending towards the 90°C-mark using a Corsair H100i CPU cooler. While this well-tuned overclocking preset is perfectly stable for our chip, the voltage and temperature levels are higher than I would use on a daily basis.
That's the joy of flexibility; backing down to the less intense 4.4GHz setting is simple, and will still render noteworthy performance increases.
The validation can be viewed here.
Manual CPU Overclocking:
To test the ASRock X99 Extreme11 motherboard's CPU overclocking potential, we first increased the CPU VCore to 1.30V, Cache voltage to 1.25V, and CPU Input Voltage to 1.90V. We also applied level 1 LLC.
DRAM frequency was maintained at 2666MHz to take its stability out of the overclocking equation. Cache frequency was maintained at 3.0GHz.
With its segregated sections, ASRock's UEFI is very easy to use for overclocking. We adjusted the settings in their given location and rebooted the system.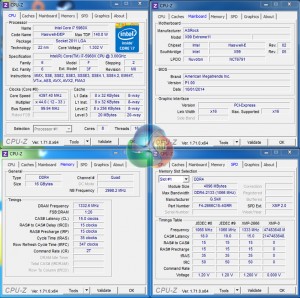 4.4GHz was the highest frequency that we could hit using a 1.30V VCore level. This is the same limit that has been observed on all other motherboards that we have tested.
As proven by ASRock's pre-sets, a higher voltage level will lead to higher stable frequencies with our chip. We were happy with temperatures in the 70°C region that were observed with a 1.30V VCore.
The validation link can be viewed here.
Memory Frequency Performance:
Support for high-speed memory kits has been a particularly troubling topic since the X99 launch. We test the motherboard's ability to load the 3000MHz XMP configuration on our G.Skill Ripjaws4 DDR4 memory.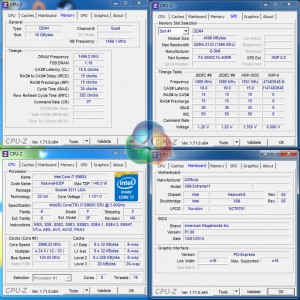 ASRock's X99 Extreme11 had no problem booting with G.Skill's 3GHz memory kit. We simply installed the memory, selected the relevant XMP profile, and rebooted the system.
The validation can be viewed here.