We measured the power consumption with the system resting at the Windows 7 desktop, representing idle values.
The power consumption of our entire test system (at the wall) is measured while loading only the CPU using Prime95′s in-place large FFTs setting. The rest of the system's components were operating in their idle states, hence the increased power consumption values (in comparison to the idle figures) are largely related to the load on the CPU and motherboard power delivery components.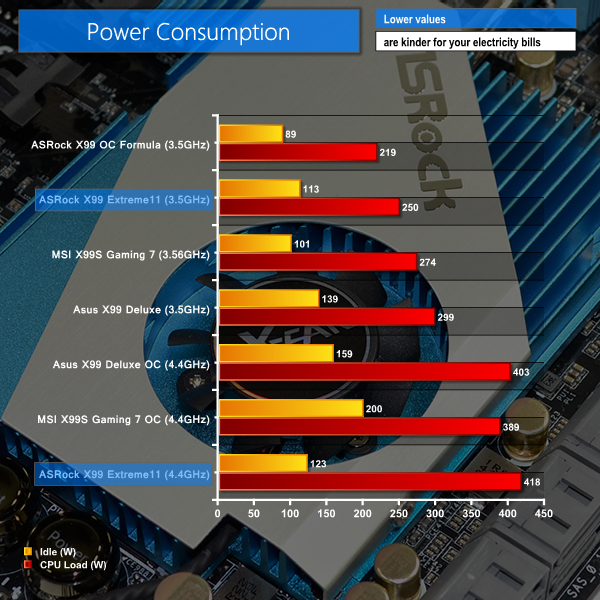 ASRock's chosen PWM controller dynamically adjusts the CPU VCore to great effect when the system is under low load. Even with its array of add-on controllers, idle power consumption for the X99 Extreme11 remains at a worry-free level and below that of Asus' X99 Deluxe.
Pumping a load through the processor is when the twelve phase CPU power delivery system is able to show its performance. Under stock conditions, the X99 Extreme11 displays the second-lowest load power consumption numbers, behind the related X99 OC Formula.
Overclocked load sees power consumption jump past the 400W-mark. The stress of an overclocked 5960X being fed 1.30V and all of the on-board controllers results in the highest power consumption level that we have recorded for an X99 motherboard.