ASRock ships the X99 Extreme11 in the company's typical style of packaging. A few of the key features are outlined on the front of the box, while detailed specifications are highlighted on the rear.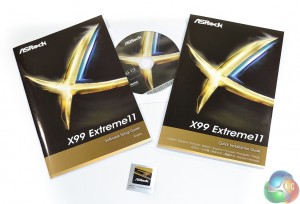 The standard affair of documentation is supplied, along with a case sticker and driver CD.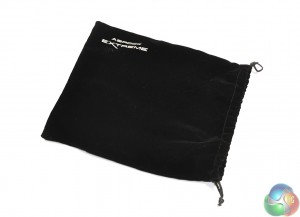 A felt bag holds all of the supplied accessories. This is a move that I like to see; an accessory can be stored neatly after being used and then retired back to the box for storage.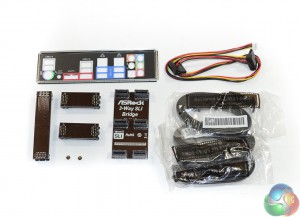 Six SATA cables and ASRock's HDD Saver cable form part of the bundle. Given the board's storage capacity, I am surprised to see fewer than ten SATA cables provided. Two screws are used to hold each of the potential M.2 devices in place. The rear IO shield is colour-coded to make finding the correct port in low-light conditions an easier task.
Four rigid SLI bridges are provided, all of which are quite dark, but seem to be more of a washed-out brown than pure black. Two bridges are for short-range two-card configurations and those are backed-up by an extended 2-way bridge. There is also a dedicated 3-way SLI bridge.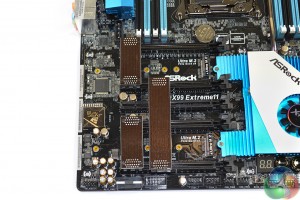 We were quick to notice the lack of a dedicated 4-way SLI bridge. Instead, 4-way SLI must be done by connecting the three 2-card bridges as follows; one to the first and second card, another linking the second and fourth, and the last one joining the third and fourth graphics cards' SLI tabs.
ASRock, please include a dedicated 4-way SLI bridge with future premium motherboards.