We will be outlining the ASRock X99 Extreme11 motherboard's performance with the Core i7 5960X CPU at its stock frequency (3.5GHz due to forced turbo). Overclocked performance will be outlined later in the review.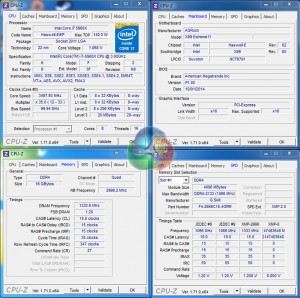 By default, the ASRock X99 Extreme11 motherboard does not apply multi-core turbo (MCT) when XMP is enabled. We had to manually apply the MCT setting in ASRock's UEFI, which is a very simple process. This will be displayed as our 'stock' setting.
ASRock sneakily applies a 1.25V DRAM voltage when our memory is manually set to 2666MHz. This is 50mV higher than the 2666MHz XMP mode set by G.Skill.
X99 Motherboard Test System:
Compared X99 Motherboards:
Memory support issues with earlier motherboard BIOSes means that there are still differences in the tests kits and configurations used. G.Skill's 2666MHz Ripjaws4 kit has stabilised our test system and will be standard from this review onwards.
Software:
ASRock X99 Extreme11 BIOS v1.00 (latest at the time of testing).
Catalyst 14.9 VGA drivers.
Tests:

3DMark 1.3.708 – Fire Strike (System)
SiSoft Sandra 2014 SP2 – Processor arithmetic, memory bandwidth (System)
Cinebench R15 – All-core CPU benchmark (CPU)
WinRAR 5.10 – Built-in benchmark (CPU)
HandBrake 0.9.9 – Convert 4.36GB 720P MKV to MP4 (CPU)
ATTO – SATA 6Gbps, USB 3.0, M.2 transfer rates (Motherboard)
RightMark Audio Analyzer – General audio performance test (Motherboard)
Bioshock Infinite – 1920 x 1080, ultra quality (Gaming)
Metro: Last Light – 1920 x 1080, high quality (Gaming)
Tomb Raider – 1920 x 1080, ultimate quality (Gaming)