Asus' Maximus VIII Hero has been crammed with gaming-orientated features, both on the hardware and software fronts, and styled to appeal to appearance-conscious builders. The result is a positive one.
Solid overclocking performance is delivered by the Maximus VIII Hero. Skylake CPUs are inherently fun and simple to overclock, although there's also room for fine-tuned adjustments if that's what you prefer. Asus has done a good job at tweaking the Maximus VIII Hero's UEFI settings to appeal to more knowledgeable overclockers, as well as those who simply want a performance boost. I would, however, like to see Asus make their LLC settings easier to understand and control.

We had no problems pushing four sticks of 3200MHz DDR4 with the Maximus VIII Hero, and the board was perfectly stable throughout our testing even though up to 1.40V was being delivered to the CPU.
Inherent features from the Z170 platform are well-chosen by Asus. There's support for high-bandwidth CrossFire and SLI of two cards, as well as simultaneous opportunity to install a pair of PCIe 3.0 x4 SSDs. USB 3.0 ports are plentiful and Asus utilises add-on chipsets to provide USB 3.1 connectors in the Type-A and Type-C form.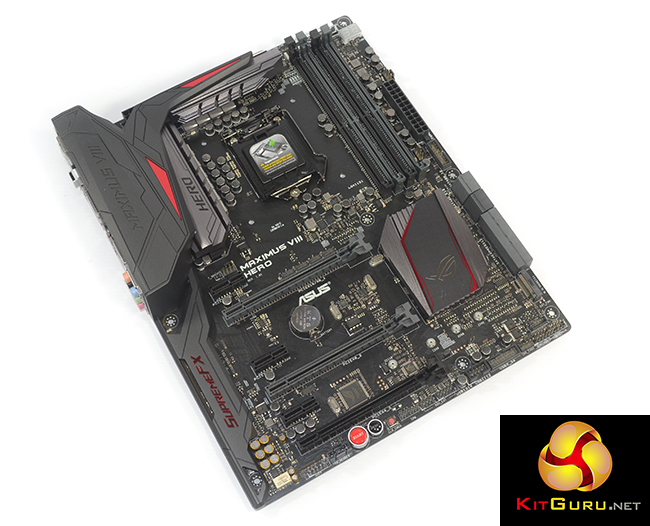 A particular strength for the Hero is its enhanced audio solution. RMAA test results indicate strong performance from the system, and our empirical testing agrees. Gamers who do not see the need to invest in a dedicated sound card are likely to be happy with Asus' onboard solution.
One of the board's main selling points is its styling. The stand-alone motherboard is, in my opinion, very attractive. With that said, I still prefer the bold red and dark black colour scheme of yesteryear's ROG motherboards. I think that gamers who have spent time and money on other hardware to match their colour scheme precisely may be disappointed to see the motherboard's sudden style change. The chipset lighting control, however, is a nice touch that adds a degree of novelty to the motherboard.
As we have simply come to expect from Asus, the UEFI and supplied software are both excellent. Although we did not examine it fully in this review, RAMCache can be particularly useful and gamers will welcome network control through GameFirst III.
With suggested pricing of £171.99, Asus' Maximus VIII Hero will be one of the more expensive Z170 motherboards on the market. To users who are willing to pay the price premium for ROG software and hardware features, as well as a unique styling, the Maximus VIII Hero is a good choice, albeit not the most cost-effective one.
Discuss on our Facebook page HERE.
Pros:
Good set of gaming-orientated features.
Strong audio solution.
Smart allocation of storage and connectivity interfaces.
Solid UEFI with a range of overclocking options.
USB 3.1 Type-A and Type-C.
Chipset lighting control will appeal to many.
Some useful pieces of software.
Cons:
Some of the overclocking settings can be difficult to master (namely LLC).
Potential for interference if a graphics card is positioned above the M.2 slot with a U.2 adapter card installed.
KitGuru says: A well-designed motherboard that carefully targets its audience with a set of precisely-chosen features.