We will be outlining the Asus Maximus VIII Hero motherboard's performance with the Core i7-6700K CPU at its stock frequency (4.2GHz due to forced turbo) and when overclocked to 4.7GHz using 1.40V.
This is the first LGA 1151 motherboard that we have tested so we do not have comparison data from other motherboards featuring the same chipset. As such, we have decided to use the charts from our Skylake CPU review to show the performance potential that a system build utilising the Asus Maximus VIII Hero and Z170 platform can provide.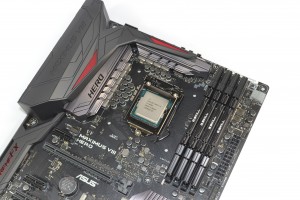 The Asus motherboard gives users the option to apply multi-core turbo (MCT) and force the 6700K to a constant 4.2GHz when XMP is enabled. We opted to utilise this setting and it will be displayed as the 'stock' setting.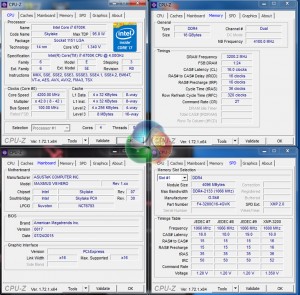 Z170 Motherboard Test System:
Software:
Asus Maximus VIII Hero BIOS v0017 (latest at the time of testing).
GeForce 353.30 VGA drivers.
Tests:

SiSoft Sandra 2015 SP2b (v2142)

 

– Processor arithmetic and memory bandwidth (System)
3DMark 1.5.915

 

– Fire Strike Ultra (System)
Cinebench R15 – All-core CPU benchmark (CPU)
7-Zip 15.05 beta – Manual video archival (CPU)
HandBrake 0.10.2 – Convert 1.23GB 1080P game recording using the High Profile setting and MP4 container (CPU)
Grand Theft Auto V

 

– 1920 x 1080, near-maximum quality (Gaming)
Middle Earth: Shadow of Mordor

 

– 1920 x 1080, ultra quality (Gaming)
Metro: Last Light

 

– 1920 x 1080, very high quality (Gaming)
Tomb Raider

 

– 1920 x 1080, maximum quality, TressFX disabled (Gaming)
ATTO – SATA 6Gbps, USB 3.0, M.2 transfer rates (Motherboard)
RightMark Audio Analyzer – General audio performance test (Motherboard)