Firstly, we are pleased to report that our NZXT Avatar S and generic wireless mouse worked correctly in the Asus Z170 UEFI. We've found our NZXT Avatar S to be the most troubling mouse with UEFI support, so when it functions correctly in the interface, that is usually a good sign for overall mouse support.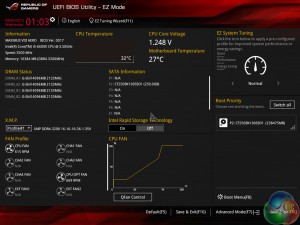 Opening up the UEFI leads to an entry page that displays a broad set of basic system information. From here, less experienced users can adjust boot device priority and fan speed settings without having to make the sometimes daunting step of delving deeper into the UEFI.
Extreme Tweaker follows the standard layout that we have come to expect from recent Asus motherboards, and that's a good thing. Easy access is provided to ratio, frequency, and voltage settings, allowing users to adjust their system parameters with minimal effort.
A set of CPU- and memory-related overclocking presets is supplied. These presets are convenient for users looking to tweak their hardware in a similar way to the professionals. there is also the EZ Tuning automated overclocking tool that can be relied upon.
An array of voltages, temperatures, and fan speed can be monitored in the UEFI. Manual fan speed control is also provided.
Asus gives the ROG UEFI its usual level of flexibility regarding fan speed tweaking. The Q-Fan Tuning utility gives users a graphical display from which they can adjust speed against temperature settings and there's also an automated configuration tool.
Asus' usual set of tools is supplied in the ROG UEFI, as well as the convenient Secure Erase. Users can route through a drive to look for a BIOS update file.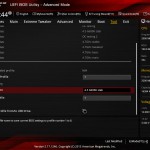 Up to eight settings profiles can be saved, named, and transferred.
The Z170 ROG UEFI is practically identical to that used on the Z97 motherboards. It follows Asus' tried-and-tested interface layout and styling, and that's a good thing. The interface is easy to navigate, plenty of options are provided, and the appearance is good to look at.
We have no complaints regarding the Z170 iterations of the ROG boards' interface. Not even the comparatively low 1024×768 resolution can be registered as a negative because Asus manages to display a relevant amount of information on each frame without making the screen full of confusion.