Automatic CPU Overclocking – UEFI-based CPU Speed Profile:
Gigabyte gives two straightforward options for overclocking the system without requiring manual tuning. Those options are by using the CPU clock speed presets in the UEFI for Skylake and Kaby Lake multiplier-unlocked Core i5 and i7 chips. Alternatively, there is the option to use automated system tuning via Gigabyte's OS-based EasyTune software.

First up, we tested the 4.8GHz 7700K CPU preset found in the UEFI.
This result worked well and was extremely fast and easy to obtain. We simply hit the 4.8GHz 7700K option and exited the UEFI. The chip hovered around 1.32V under Prime95 load (and a few hundred millivolts higher) and XMP memory settings were maintained. I wouldn't have a concern using this preset on a day-to-day basis, provided my specific chip was stable with such settings.
Automatic CPU Overclocking – OS-based EasyTune Auto Tuning:
Next up, we tested the OS-based EasyTune automated overclocking tuning. The software reboots the system and tests frequencies which work until stability is met.
We got to the same 4.8GHz using EasyTune, though the load voltage was reduced below 1.3V (depending on the load program). This is a good CPU overclock, although your luck with such a voltage level will certainly depend upon the silicon lottery.
What was disappointing, however, was that XMP was disabled and our 3200MHz memory kit operated at a wasteful and slow 2133MHz.
Manual CPU Overclocking:
To test the Gigabyte Aorus Z270X-Gaming K5 motherboard's CPU overclocking potential, we first increased the CPU VCore to 1.35V and applied the High LLC setting in order to deliver a voltage close to our intended 1.35V.
We maintained the DRAM frequency at 3200MHz to take its stability out of the overclocking equation. Cache frequency was maintained at its stock MCT value of 4.2GHz.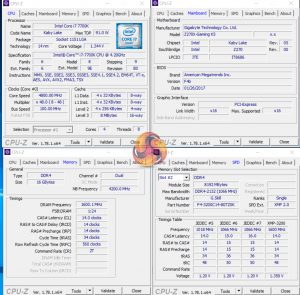 Hitting our maximum Prime-stable clock speed of 4.8GHz with the 7700K was relatively straightforward. Voltage accuracy was good as the chip was delivered with 0.006V less than our 1.350V target under Prime 95 load.
We criticised the Gaming 7 for the way in which its LLC setting varied CPU VCore away from our target level by a significant number. Based on this batch of testing, the issue has been addressed with the latest BIOS update for Gigabyte's Aorus Z270X-Gaming K5.
3600MHz XMP Memory:
We test the motherboard's ability to run G.Skill's high-speed 16GB DDR4 TridentZ kit at a 3600MHz XMP setting. High-speed XMP settings can prove a challenge for motherboard designers when optimising the settings for stability at the intended DRAM frequency.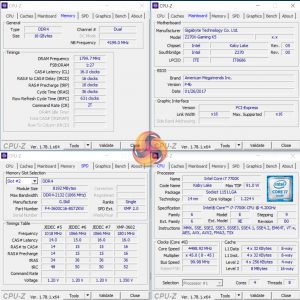 Our 3600MHz kit of G.Skill memory worked without issue by simply applying XMP in the UEFI.
Overclocked Performance

As a performance comparison, we have included the results from four other Z270 motherboards. The maximum overclocked configuration achieved with each board was a 4800MHz (48 x 100MHz) processor frequency whilst using 3200MHz CL14 memory.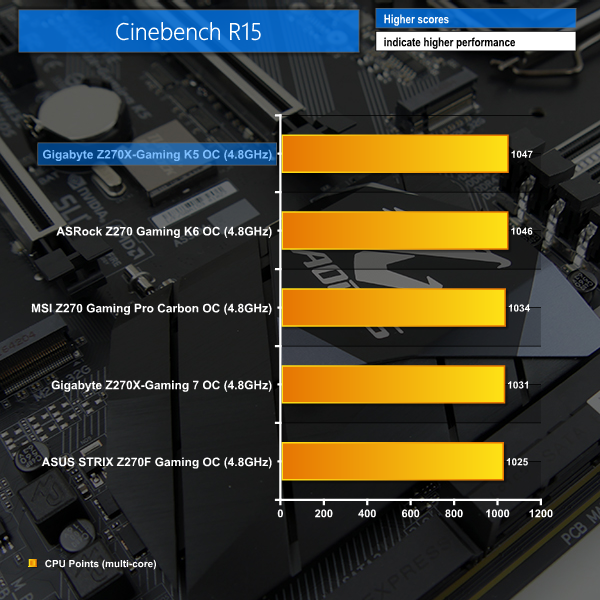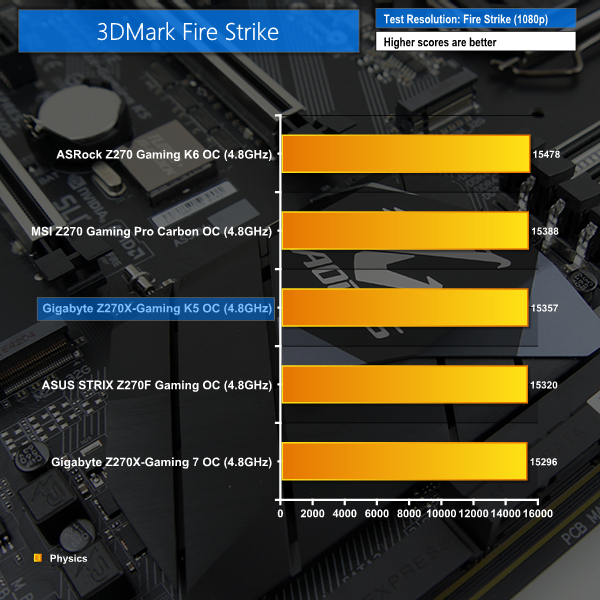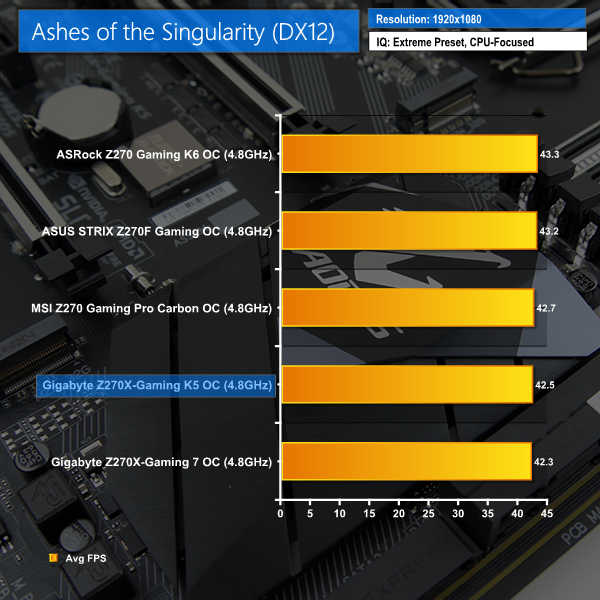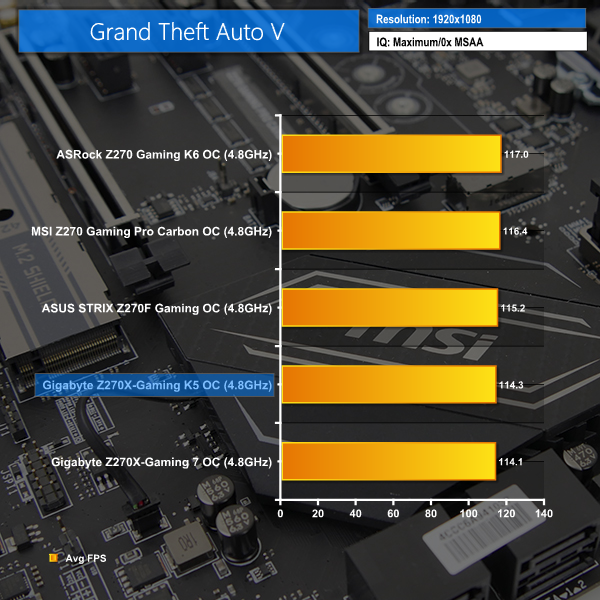 Performance from the overclocked Aorus Z270X-Gaming K5 is good for CPU-intensive workloads but the gaming numbers are still a very small percentage off the pace set by ASRock, ASUS, and MSI competitors. With that said, a difference of 2-3 FPS at over 110 FPS is a small difference that is unlikely to be a deal-breaker.
Power
We leave the system to idle on the Windows 10 desktop for 5 minutes before taking a reading. For CPU load results we run AIDA64 CPU, FPU, and Cache stress tests and take a reading. The power consumption of our entire test system (at the wall) is shown in the chart.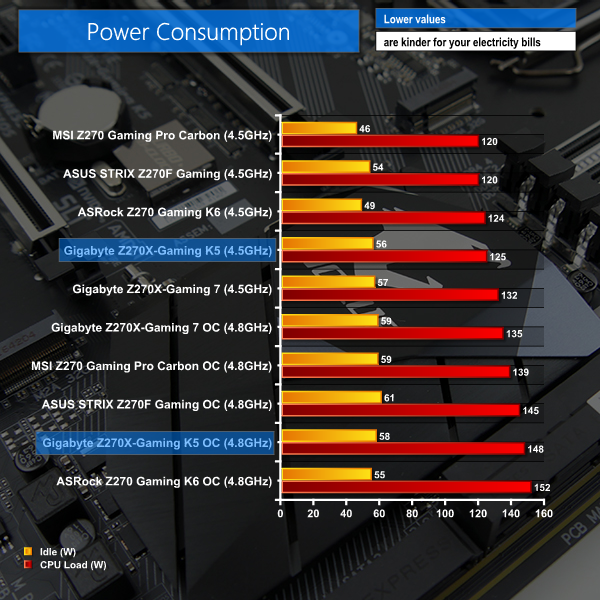 Gigabyte's latest BIOS fixed the high auto VCore levels that we observed with the Gaming 7 under stock forced-turbo conditions. Load power draw from Gigabyte's board is close to the levels shown by competing vendors' boards.
A 1.344V load voltage when overclocked sees power numbers from the wall kept below 150W when running Prime 95. Gigabyte's Aorus Z270X-Gaming K5 isn't quite as efficient as the MSI Z270 Gaming Pro Carbon when overclocked, although this difference is likely to be attributed to differing settings.
To put it simply, Gigabyte's Gaming K5 will not cause a spike in your power bills compared to any of the competing solutions.