The Gigabyte Aorus Z270X-Gaming K5 is a well-balanced motherboard that ticks the core features boxes and adds superb fan control capabilities and extensive RGB lighting options into the mix.
Performance from the motherboard was generally fine. We had no problems with stability throughout our testing and overclocking capabilities through manual and preset methods were positive. 3600MHz XMP memory worked without hassle and the latest BIOS has addressed the silly voltage levels that we saw Gigabyte applying with the Aorus Z270X-Gaming 7 motherboard. However, GPU-intensive performance metrics, such as games, tended to be 1-2% slower than on competing vendors' motherboards.
Expansion potential is an area where Gigabyte's Aorus Z270X-Gaming K5 does well. A trio of PCIe SSDs can be used in RAID 0, or one can opt for two PCIe/SATA M.2 devices for more sane usage scenarios. Onboard U.2 is good to see and SATA-Express may tick the box for some buyers who still like to use front panel 10Gbps USB 3.1 Gen 2 boxes. It is also good that the lower full-length PCIe slot runs at x4 bandwidth without interference from M.2 slots, although bandwidth is shared with x1 PCIe connectors.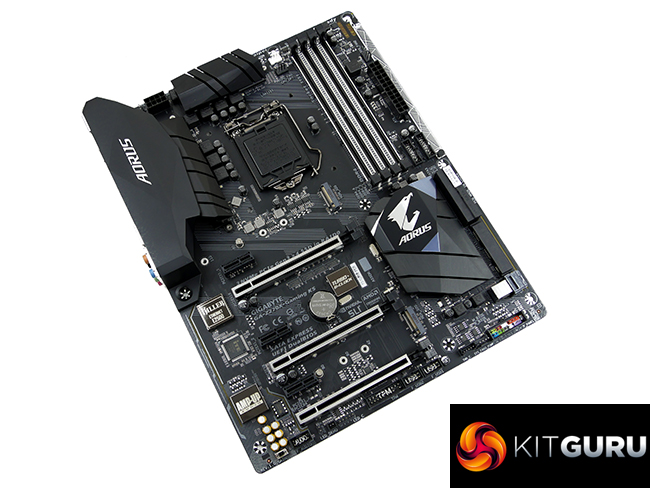 Gigabyte's UEFI is OK but nothing more. It works but the layout is uninspiring, navigation has room for improvement, and interactivity is minimal. With that said, control for the RGB LED lighting system through the UEFI is a strong positive and the same can be said about the fan control. Users can happily manage their fans and LEDs without the need to install OS-based software. Gigabyte has a vast number of OS-based software tools and monitoring and system control are clear strengths of the options.
Having tested the four ~£170 'gaming' options from ASUS, ASRock, MSI, and now Gigabyte, the Aorus Z270X-Gaming K5 is the product that offers the best balance of features. No, it doesn't have the M.2 cooling heatsink of MSI's alternative, nor are there additional SATA or GbE ports like on ASRock's board, and the UEFI or software package isn't as strong as ASUS'.
But the overall balance of features on Gigabyte's Aorus Z270X-Gaming K5 is what puts it in a strong position; the Smart Fan 5 fan control system is superb, RGB Fusion LED lighting is better than other options in this price range, and the added extra of native U.2 support is a small bonus over competing solutions.

The Gigabyte Aorus Z270X-Gaming K5 is available at Overclockers UK for £172.99.
Discuss on our Facebook page, over HERE.
Pros:
Excellent fan configuration and control system through Smart Fan 5.
RGB Fusion works very well and is better than competing solutions at this price point.
The actual RGB LEDs are bright, colour-accurate, and span several zones on the board.
Good feature set that includes native U.2 and a solid audio solution.
Smart distribution of chipset lanes (triple PCIe SSD support, as well as a PCIe 3.0 x4 expansion device and dual graphics cards)
Cons:
No consideration given to M.2 SSD cooling.
UEFI needs more work to better compete with ASRock, ASUS, and MSI implementations.
KitGuru says: Gigabyte's Aorus Z270X-Gaming K5 is equipped with a smart balance of features alongside superb RGB LED and fan control systems to make it a very strong mid-range solution at around £170.