The Gigabyte Aorus Z270X-Gaming K5 uses primarily-black colouring, allowing the RGB LEDs to add unique styling tailored to individual preference. A solid black Aorus rear IO cover adds appeal to the board alongside the eye-catching Aorus chipset heatsink. Subjectively, this is a very aesthetically pleasing motherboard without even switching on the LEDs.

Gigabyte's Ultra Durable Armor PCIe slots are clearly visible with their stainless steel reinforcement designed to minimise GPU sag or slot damage. The same shielding approach is used for the DIMM slots which helps to minimise PCB flex during installation of memory modules.
There are no onboard buttons for power and reset and dedicated debug LEDs are favoured over the superior two-digit LED display.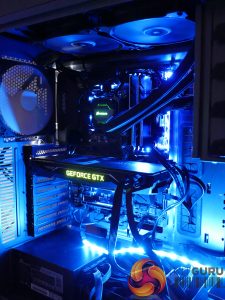 Six RGB lighting zones are found on the Z270X-Gaming K5. This is not quite as many zones as the higher-end Gaming 7 and the number of LEDs in zones such as the PCIe slot area is reduced. There is also the 5-pin RGBW strip header that worked very well with our CableMod RGB strip.
The individual lighting zones are:
CPU VRM area
Audio section
PCIe slots
SATA ports area
DIMM slots
Right-hand plastic strip
That plastic strip can be removed and replaced with a design tailored to a user's individual preference. There's also the possibility of 3D printing a custom plastic strip and screwing it onto the board.
Unlike the Gaming 7, the Gaming K5 cannot control the RGB lighting zones individually. As such, one colour is applied across the motherboard's RGB LED zones and a second, separate colour can be applied to the RGB(W) LED strip. This is hardly a negative against the Gaming K5 as its LED lighting system is still superior to that of price-matched offerings from ASUS, ASRock, and MSI.
Software-based control of the lighting modes is superb, the LEDs are bright, and there is an element of basic UEFI control for users who refuse to install any additional OS software beyond what is completely necessary.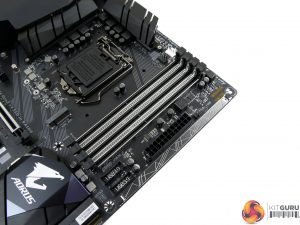 Four dual-latch DIMM slots have stainless steel reinforcement and RGB LEDs mounted between them. I like this lighting zone as it does a good job of illuminating the memory area without overpowering it with light.
Close to the DIMM slots are two internal USB 3.0 front panel headers. The inclusion of two headers, rather than one, is good as VR headsets such as the HTC Vive demand more and more front panel USB 3.0 ports. Both headers operate from the Z270 chipset.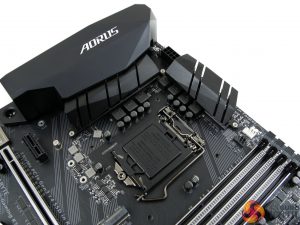 Eight power delivery phases feed the LGA 1151 CPU and supplementary system rails. Two well-sized metal heatsinks cool the MOSFETs without being overly intrusive.
For watercooling fans, EK offers a RGB Monoblock that is compatible with many of Gigabyte's Z270 motherboards, including the Gaming K5.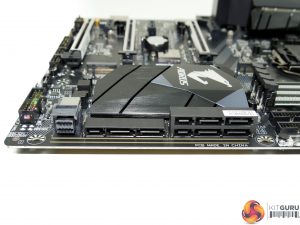 Six SATA 6 Gbps ports operate from the Z270 chipset, all of which combine to provide up to three 10Gbps SATA-Express ports. Gigabyte only includes the SATA-Express ports as they are basically free add-ons due to the functionality already being baked into the Z270 PCH. With that said, I still like SATA-Express for its ability to power front panel 10Gbps USB 3.1 connectors (until a new standard of connector, presumably based around USB Type-C, takes over).
Native 32Gbps U.2 is a surprise inclusion for a ~£170 motherboard but it's not a bad thing to see it. For somebody who may have been lucky enough to grab a bargain 400GB Intel 750 U.2 SSD, the onboard port is a far cleaner solution than using an M.2-based adapter and having an ugly cable trail across one's motherboard. Or you could get quirky and buy a U.2-to-M.2 adapter board to provide a third M.2 connector.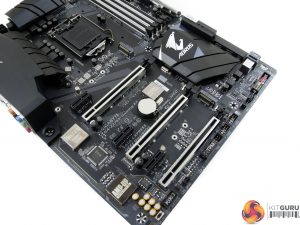 The pair of M.2 slots support both 32Gbps PCIe 3.0 x4 (or x2) NVMe SSDs as well as slower SATA 6Gbps M.2 SSDs. Both slots can be used simultaneously thanks to smart lane distributions, so if you fancy a pair of RAID 0 Samsung 960 EVO M.2 SSDs, go for it! In fact, you can add a third PCIe 3.0 x4 NVMe SSD connected to the U.2 port and run triple SSDs in RAID 0, though that would require the use of Intel 750 SSDs and a pair of M.2-to-U.2 adapters (unless a U.2 and M.2 compatible SSD is released in the future).
Gigabyte's lane distribution may be smart on the PCIe front but it isn't very efficient when it comes to the M.2 slots stealing bandwidth from SATA ports. A SATA/PCIe x2/PCIe x4 SSD in the upper M.2 slot renders SATA ports 4 and 5 unusable. The lower M.2 slot does not steal any SATA lanes except the one required from SATA port 0 to feed an M.2 SATA SSD, if installed. Put simply, you should use the lower M.2 slot first as it steals fewer SATA connections (possibly none), if cooling of your SSD isn't a problem.
Up to 110mm-long drives can be housed in the top slot while the lower is limited to (the more common) 80mm-long variants. It is disappointing to see that Gigabyte has not given M.2 SSD cooling any consideration, as MSI has done with its M.2 Shield. With that said, positioning of the upper M.2 slot (not below a GPU) means that one could manually attach a VRM-style heatsink to an M.2 SSD without worrying about vertical interference. Incidental airflow from an air CPU cooler would also help.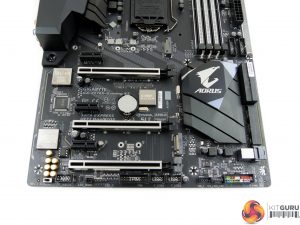 The upper two reinforced, full-length PCIe slot should be used for a pair of graphics cards. Bandwidth from the CPU lanes is split as x16/x0 or x8/x8. Slot spacing is smart as the upper slot is far enough away from the CPU socket and DIMM connectors to minimise interference. The two-slot gap to the next PCIe full-length slot is large enough to give a dual-width graphics cooler some breathing room.
That lower full-length PCIe slot receives four lanes of PCIe 3.0 bandwidth from the chipset and, despite technically supporting a third card in CrossFire, should realistically be reserved for use with a PCIe SSD or other high-speed add-in card such as a multi-port NIC. Before stuffing it with an add-on card, though, it should be noted that bandwidth is shared between the lower full-length PCIe slot and the three PCIe 3.0 x1 connectors. When any one of those x1 slots is used, the bottom full-length slot reduces to PCIe 3.0 x1 bandwidth.
Connectors along the bottom edge are generally the usual affair, except for the 5-pin RGBW LED header which offers pure-white support as well as software-reconfigurable pins to offer greater compatibility in the fragmented RGB LED strip market. A Thunderbolt AIC header is found just below the pair of soldered BIOS chips, next to a 4-pin PWM/DC configurable fan header.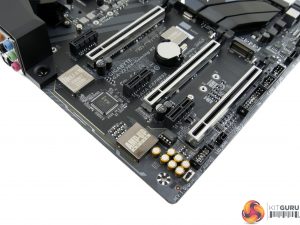 Gigabyte's AMP-UP audio system for the Aorus Z270X-Gaming K5 is based around the popular Realtek ALC1220 codec. Audio capacitors, codec shielding, and dedicated PCB traces aim to smooth out the signal and maintain its quality.
The socketed op-amp is a Texas Instruments Burr Brown NE5532P unit that is common for motherboards at this price point (though not in socketed form). Importantly, its socketed installation allows it to be upgraded at the desire of a user's individual preferences. A switch on the board's bottom edge controls gain to the audio system with two different levels.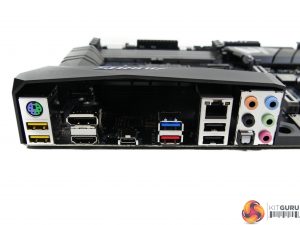 A total of six USB Type-A ports are found on the rear panel which is a fair number for most users wanting this calibre of motherboard (although another pair would have been welcomed). A PS/2 connector is mounted above the two yellow-coloured USB 3.1 Gen 1 5Gbps ports that also support Gigabyte's USB DAC-UP 2 feature to deliver cleaner power to USB headsets and audio peripherals. There's another 5Gbps USB 3.1 Gen 1 port mounted above the red, ASM2142-powered 10Gbps USB 3.1 Gen 2 Type-A port, next to the 10Gbps Type-C connector.
Two more Type-A ports, this time of USB 2.0 variety, are mounted below the Killer E2500 GbE NIC. Killer's NIC is a hate-it-or-love-it inclusion for gamers but the network management software can prove useful in many scenarios, especially if the motherboard vendor does not have software capable of providing management for competing NIC solutions.
Video output comes from DisplayPort 1.2 and HDMI 1.4, meaning that 4K60 can operate through the DP connector. No luck for users wanting 4K60 over HDMI, though (which will be a small percentage given the likelihood of this board being paired with a discrete GPU).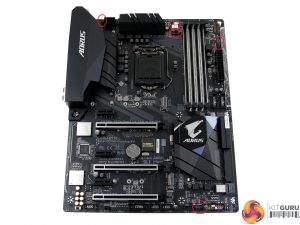 Five 4-pin fan headers are distributed across the motherboard. Five headers is borderline sufficient for a mid-range motherboard that is likely to be housed inside a system with numerous chassis fans.
Making up for the quantity, however, is the quality of Gigabyte's Smart Fan 5 control system for the 4-pin headers. DC and/or PWM control can be selected in addition to water pump operation with a current output of up to 2A. ITE's SuperIO chipset is to thank for the excellent fan management capabilities.