Automatic CPU Overclocking: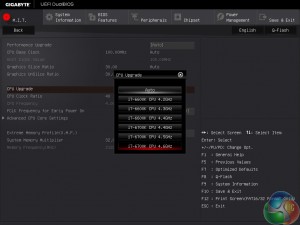 Gigabyte provides a number of CPU overclocking pre-sets through the UEFI although these use pre-defined settings rather than ones tweaked to an individual chip's capabilities.
Using the Auto Tuning method in Gigabyte's EasyTune software our chip managed to run at 4.7GHz with stability. The software cycled the chip's frequency and rapidly stress-tested it until the system crashed. Upon reboot the previous information was used to run the CPU at a relevant stable frequency.
Core voltage for this automated overclock was a positive. The chip was set to operate at 4.7GHz with a core voltage of 1.288V under heavy load. This resulted in positive temperature and power consumption numbers. One disappointment, however, was that XMP was disabled.
Manual CPU Overclocking:
To test the Gigabyte Z170X-Gaming 7 motherboard's CPU overclocking potential, we first increased the CPU VCore to 1.40V. We also enabled 'High' load-line calibration (LLC) in order to supply as close to our selected voltage level as possible. The cache ratio was set to 45x.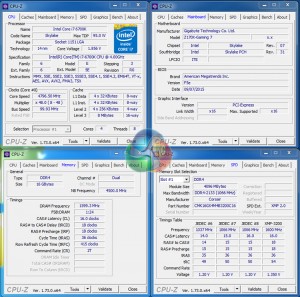 Gigabyte's Z170X-Gaming 7 motherboard had no problem pushing our i7-6700K chip to its stability limit of 4.8GHz when using 1.4V. Voltage accuracy using the High LLC setting could have been better – our multimeter recorded a VCore of around 1.385V whilst idling and around 1.37V when under heavy Prime95 load.