The Gigabyte Z170X-Gaming 7 is a feature-friendly motherboard that shows good performance and offers boutique builders a unique styling option.
General performance from the motherboard is as good as expected. We also had no problem pushing our Core i7-6700K to its 4.8GHz limit, even though the board delivered a lower core voltage value than we asked for. The onboard buttons and reading points are good for overclockers who like to find their system's limits before mounting it inside a chassis.
Gigabyte's automated and pre-set overclocking options are also good for users who simply want to play games on their speed-boosted system without manually fine-tuning the clock frequency. The UEFI is stable and has a solid range of features, even if it is a bit dull and somewhat boring compared to other vendors' solutions. Thankfully Gigabyte provides some nice features through the OS utilities to make up for negatives like the UEFI's terrible fan control method.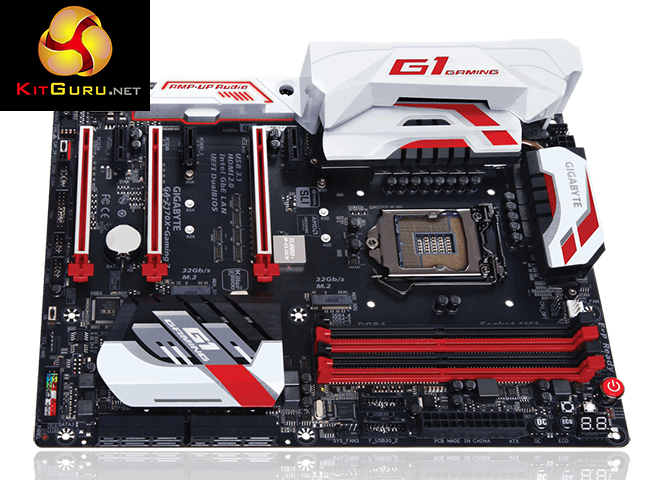 The set of features chosen by Gigabyte is generally smart and should appeal to a enthusiast/gaming audience, especially with Intel's PCIe 3.0 x4 DSL6540 'Alpine Ridge' USB 3.1 controller. There's plenty of onboard storage connectivity, a choice of NIC vendors is good even if it is somewhat wasteful, and the audio solution is superb. Support for two high-bandwidth graphics cards in addition to a pair of PCIe 3.0 x4 SSDs (at least one via M.2) lays the foundation for a potentially strong gaming system.
Overall appearance is one of the Gigabyte Z170X-Gaming 7 motherboard's unique points. Many people will be drawn to the contrast of a largely black and white motherboard and the splashes of red may be to their taste. The styling is definitely unique and that's something that we like to see in a market that has been overly saturated by red and black components for a long time.


Priced at £175.99 from OverclockersUK, the Gigabyte Z170X-Gaming 7 is positioned in the premium price segment for a Z170-based gaming motherboard. Notable competitors at this price point include Asus' Maximus VIII Hero and the MSI Z170A Gaming M7.
Gigabyte offers a number of points on the Z170X-Gaming 7 that differentiate the board from similarly-priced competitors. The audio solution is particularly strong (and upgradeable), there's HDMI 2.0 onboard, and USB 3.1 is provided by Intel's superb DSL6540 'Alpine Ridge' controller.
Discuss on our Facebook page, over HERE.
Pros:
Strong audio solution with good customisability.
Intel DSL6540 'Alpine Ridge' controller for USB 3.1 connections.
Smart layout decisions and chipset lane configurations.
Good expansion options, especially in addition to two graphics cards.
Unique appearance that breaks the mould.
Onboard HDMI 2.0 capability could be beneficial.
Cons:
Voltage accuracy when overclocked could be better.
Dual NICs without teaming seems wasteful.
UEFI could be more interactive.
KitGuru says: A well-balanced feature set makes Gigabyte's Z170X-Gaming 7 motherboard worth buying and some of those unique aspects may just boost it up towards the top of your shopping list.