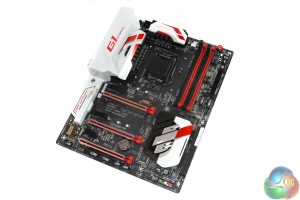 The first noticeable point for the Gigabyte Z170X-Gaming 7 motherboard is its red, white, and black colour scheme. Gigabyte has deployed a balance of colours that, in my opinion, works well to create a good-looking motherboard.
The bright white rear IO shroud and heatsinks act as eye-catching points of contrast against the dark black PCB. And red accents add a unique touch to the colour scheme.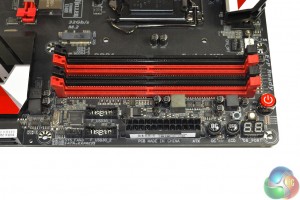 Gigabyte outfits the board with a number of features that will be appreciated by overclocking users. There are onboard power, reset, clear CMOS, Eco mode, and OC buttons, all of which are useful when trying to find a stable overclock or quickly adjust the system's operation.
Close to those buttons is a 2-digit debug LED while voltage reading traces are found above the DIMM slots.
A pair of internal USB 3.0 headers is able to output up to four USB 3.0 ports thanks to a Renesas uDP720210 hub controller.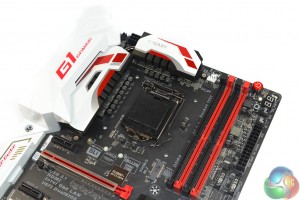 Up to 64GB of dual-channel DDR4 memory can be installed in the four single-latch DIMM slots. Gigabyte quotes supported frequencies of up to 3866MHz, although the actual speed capability depends on a number of other factors such as the CPU's IMC strength and the BIOS stability.
Spacing around the LGA 1151 CPU socket is sufficient for many large air coolers. Thanks to the relatively short stature of the VRM heatsinks, we had no interference issues or installation troubles when using the sizeable Noctua NH-D14 CPU cooler. A single 8-pin power connector drives the CPU and a Turbo B-Clock IC allows for significant changes to the CPU BCLK.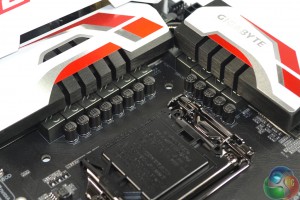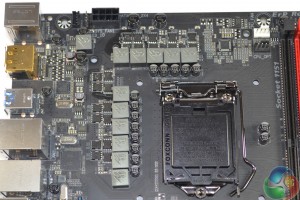 A total of twelve power delivery phases are responsible for feeding the LGA 1151 CPU and its associated iGPU, as well as general system voltages. Eleven of the MOSFET phases are cooled by a pair of solid metal heatsinks that are connected via a heatpipe.
Gigabyte doesn't shout particularly loudly about the power delivery components in the board's marketing materials, implying that the deployed hardware is there to simply serve a typical system load rather than push for extreme overclocks.
There's a hybrid digital Intersil ISL95856 PWM controller for overall management of the power delivery system. That 4+3 phase-capable controller is aided by a quartet of Intersil's ISL6625A phase doublers which implies that the CPU receives a total of eight power delivery phases with the remaining four being split off for other components.
The high- and low-side MOSFETs are marked RA12 WB W45K and RA18 CF T46K and seem to be manufactured by Vishay, although I can only find relatively little information about these components.
A total of eight SATA 6Gbps ports are provided, six of which can be utilised to double-up as a trio of 16Gbps SATA-Express connectors. All six of the SATA ports that can be used for SATA-Express duties are routed from the Z170 chipset.
The remaining two SATA 6Gbps ports are provided by an ASMedia ASM1061 host controller and are significantly slower than the Z170 alternatives. They should be reserved for use when other ports are unavailable.
Plentiful bandwidth from the Z170 chipset allows Gigabyte to provide a pair of PCIe 3.0 x4 32Gbps M.2 connectors. Both can be used simultaneously, they support RAID over PCIe, and SATA M.2 SSDs can be installed. One downside is that the lower connector becomes unusable if an expansion card is positioned in the lowermost full-length PCIe slot.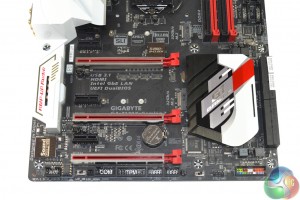 Up to 2-card SLI (due to its requirement for PCIe x8 lanes) or 3-card CrossFire is supported by Gigabyte's Z170X-Gaming 7 motherboard. Gigabyte looks to have routed the lowermost full-length slot's lanes from the Z170 chipset (and shared them with the lower M.2 connector).
This translates into a PCIe lane distribution of x16/x0/x0 for a single card, x8/x8/x0 for two cards, and x8/x8/chipset x4 for three cards. I like this layout decision because it also allows users to install a pair of SLI graphics alongside a PCIe x4 expansion device (a RAID card or Intel SSD 750, for example) thanks to an x8/x8/chipset x4 PCIe configuration being possible.
The three full-length PCIe slots feature steel shielding to improve their rigidity and (potentially) help reduce EMI. Without getting too technical, a steel covering helps to withstand shear loads that are applied by a graphics card and therefore reduce the likelihood of the PCIe slot being physically damaged. Slot spacing is also smart with users of two dual-slot cards being given a cooling gap.
A trio of PCIe 3.0 x1 connectors completes the expansion slot allocation.

The standard affair of ports is found along the board's bottom edge. In addition to front panel audio and chassis headers, as well as USB 2.0 outputs, Gigabyte includes TPM and COM headers.
Close to a fan header is the dual BIOS switch that allows users to change to the secondary BIOS if the primary version crashes – an excellent redundancy feature.
Gigabyte takes a different approach to that of competing motherboard vendors with its Amp-Up audio solution. The system is driven by a quad-core Creative Sound Core3D processor rather than Realtek's popular ALC 1150 codec. Used in tandem with Creative's SoundBlaster software, Gigabyte says that the dedicated audio processor removes a workload from the system's CPU.
Backing up the undeniably powerful audio processor are a removable Burr Brown OPA2134PA op-amp and a DRV632 pop-free stereo line driver, both manufactured by Texas Instruments. A pair of AS358M operational-amplifiers are also found in addition to two 220 microfarad (6.3V) Nichicon capacitors and a further six 50 microfarad (50V) units from the same company's Fine Gold series. Gigabyte says that all of these capacitors are from Nichicon's MUSE MW series.
Rounding off what is a particularly high-end onboard audio solution is a two-point audio gain switch for the removable op-amp. Gigabyte gives users control over the audio signal's track colouring and that of the LEDs positioned beneath the 'AMP-UP Audio' text.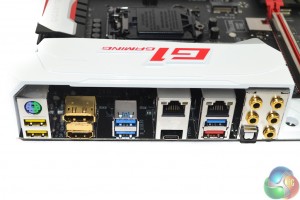 Star of the rear IO show are the two 10Gbps USB 3.1 connections (one of which is in Type-C form and one red port in Type-A form) that are provided via Intel's DSL6540 (formerly Alpine Ridge) controller. The 32Gbps PCIe 3.0 x4 controller is capable of powering a pair of 10Gbps USB 3.1 connections simultaneously – ASMedia's ASM1142 competitor used on most other vendors' boards is limited to 8Gbps of usable bandwidth.
Put simply, the DSL6540 controller provides USB 3.1 without bottlenecks meaning that Gigabyte is making use of the best solution on the market. A Texas Instruments TPS65982 controller is utilised for implementing the USB Type-C logic connector and for providing a capability for up to 3A of current using USB's Power Delivery specification.
Dual Gigabit NICs are provided, one of which uses a Killer E2400 chipset with the other relying upon Intel's I219-V controller. Especially when teaming is not supported, I don't really see the point of dual NICs on a gaming motherboard – it seems like Gigabyte couldn't decide between the Intel NIC and its lower CPU overhead or the Killer solution and its bundled network management software, so the decision makers just deployed both thus ramping up costs.
All three of the rear 5Gbps USB 3.0 ports derive from the Z170 chipset. Gigabyte advertises the yellow USB 2.0 connectors as USB DAC-UP ports, implying that they receive a cleaner power signal that helps to provide better performance to a USB DAC. The PS/2 connector is good to see for troubleshooting purposes. Gold-plated audio connectors help to reduce signal interference and aid port longevity.
The same can be said for the DisplayPort 1.2 and HDMI 2.0 (with HDCP 2.2) connectors, both of which support 4K 60Hz outputs from the integrated GPU. A MegaChips MCDP2800 LSPCON is responsible for video management duties relating to the conversion of a DisplayPort 1.2 connection to the HDMI 2.0 physical output.
While all of this added expense to deploy HDMI 2.0 on a gaming motherboard likely to be used with a discrete GPU may seem odd, there are some plausible use cases. For example, that HDMI 2.0 port and its HDCP 2.2 capability could be a big deal for gamers using a dedicated GPU without HDMI 2.0 capacity (I'm looking at you, R9 Fury series) who also want to connect their system to a 4K TV for media consumption.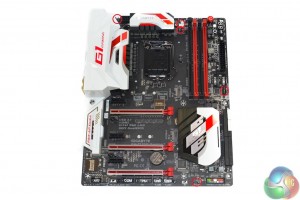 Gigabyte spreads five 4-pin fan headers evenly around the board. Two connectors are allocated CPU control duties and a further two are still accessible from the CPU socket area. The final header found along the board's bottom edge is good for catering to a side or front panel fan.
ITE's IT8628E Super IO chipset is responsible for system monitoring and fan control duties.