Automatic CPU Overclocking: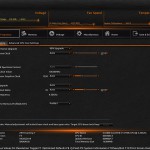 Same UEFI implementation, same complaints.
I have outlined my disappointment in Gigabyte's overclocking pre-sets a number of times in the past. I first encountered the poor tuning on the company's G1.Sniper Z87 motherboard and hoped that it would be fixed for Z97. I was despaired – both the Z97X-UD5H-BK and Z97X-Gaming 7 use the same poorly tuned profiles. As I wrote in the previous reviews:
Built into Gigabyte's Z97 UEFI implementation is a parameter called 'Performance Upgrade'. This seems to be Gigabyte's version of automated overclocking.
Users are free to select from five profiles which are named: 20%, 40%' 60%, 80%, and 100%. Oddly enough, the number values mean nothing. The profile names do little more than confuse a user away from applying the profile in fear for their chip's life – 100% would be a huge overclock.
We recorded the profile settings to be configured as follows:
20% gives a CPU frequency of 4.30GHz with a VCore of around 1.40V and DRAM speed of 1600MHz.
40% gives a CPU frequency of 4.40GHz with a VCore of around 1.40V and DRAM speed of 1600MHz.
60% gives a CPU frequency of 4.50GHz with a VCore of around 1.40V and DRAM speed of 1866MHz.
80% gives a CPU frequency of 4.60GHz with a VCore of around 1.355V and DRAM speed of 1866MHz.
100% gives a CPU frequency of 4.70GHz with a VCore of around 1.42V and DRAM speed of 2133MHz.
It doesn't take an experienced overclocker to realise that 1.40V is past the boundary that most people consider safe for processor longevity. The profiles use needlessly high voltage levels (with the exception of the 80% profile which is actually fairly well-optimised) that many people's coolers will be unable to tame.
Gigabyte's 'CPU Upgrade' automated overclocking profiles use an equally worrying 1.40V CPU voltage level, as do the settings applied via the OS-based EasyTune software. Gigabyte needs to fix these profiles soon or simply admit that its boards do not feature pre-defined overclocking parameters that the vast majority of users will feel safe operating.
Windows readings and those conducted via a multimeter confirmed that the voltage levels were even higher than the already-worrying 1.40V level. I would strongly advise against using the automated overclocking profiles unless you own a strong custom water-cooling loop (in which case you'd probably know how to manually overclock a CPU) or do not care for the life of your processor.
We cannot comment on the voltage levels with other CPUs (namely the 4670K) installed as we only have a single 4770K chip at hand. Nevertheless, Gigabyte needs to update the pre-tuned overclocking profiles.
With all that feedback provided, perspective has to play a part in the analysis of this motherboard. We would wager that most of the folks buying an upmarket board like the Z97X-Gaming 7 will be knowledgeable enough to overclock their CPU manually.
As such, the automated overclocking issues aren't as much of a problem on the Z97X-Gaming 7 as they would be on a more entry-level part (with a less overclocking-knowledgeable target audience).
Manual CPU Overclocking:
To test the Gigabyte Z97X-Gaming 7 motherboard's CPU overclocking potential, we first increased the CPU VCore to 1.325V, CPU Ring (Cache) voltage to 1.275V, and CPU Input Voltage to 1.900V. The CPU Ring ratio was set to 39x.
Despite applying our settings in the UEFI, Gigabyte's board refused to correctly display the voltage levels we input. A similar fact was experienced with the company's Z97X-UD5H-BK motherboard, indicating that it's the UEFI that is preventing the selected voltage levels from being displayed. Thinking that this may just being a reading glitch in the software, we booted the system and physically checked the voltage readings with a multimeter.
The multimeter readings confirmed that the Gigabyte board was not applying one of the voltage levels that we had selected. We opted for 1.90V CPU Input voltage but only 1.838V was provided under load (1.90V wasn't even reached while idling). The CPU Ring voltage was operating near our selected setting (irrelevant of what the UEFI displayed). CPU voltage peaked at 1.344V which is a fair overshoot for a 1.325V selection.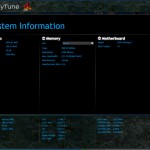 As we have already pointed out, CPU-Z does not display the relevant CPU voltage so we would recommend using the latest version of HW Monitor or Gigabyte's EasyTune utility.
Our processor's limit of 4.5GHz was hit with ease. We tried for a higher overclock, but as is always the case, our attempts were quickly foiled by a BSOD.