Gigabyte Z97X-Gaming 7 software (including generic Gigabyte Z97 motherboard software)
The software tools that Gigabyte provides with its Z97X-Gaming 7 are largely identical to those compatible with the Z97X-UD5H-BK. By default, the Z97X-Gaming 7 uses a red theme for its software apps.
Gigabyte's EasyTune software allows users to view and adjust frequency, voltage, and other overclocking-related settings in an OS environment. Pre-set frequency profiles can also be selected, as can an auto tuning overclocking tool.
Being a G1 Gaming series motherboard, Gigabyte makes the part compatible with an extra version of the EasyTune software (the one we got when downloading software via Gigabyte's webpage). It's not just the skin that is different, though; compared to the standard EasyTune software, the G1 Gaming part seems to be allocated additional settings.
Additional power and alert settings can be configured elsewhere in the software suite.
System information is continuously displayed at the bottom of the EasyTune window. Making up for the lacklustre UEFI approach, settings for a custom fan speed profile can be tweaked via their own section in Gigabyte's software suite.
The monitoring section displays voltage, fan speed, and temperature readings, although the graphs are very ugly and poor layout makes them difficult to read. We also noticed that Gigabyte's CPU temperature reading is erroneous; a sub-ambient temperature was recorded, indicating a clear issue.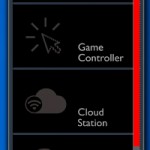 Moving over to the App Center, Gigabyte allows users to install the tools relevant to them. For example, the System Information Viewer tool can be installed but Smart Time Lock can be left out.
The Z97X-Gaming 7 motherboard is able to install the exact same software as the Z97X-UD5H-BK, the only difference is the theme colour (Gigabyte's G1 Gaming board uses a red skin).
System information and fan speed settings can be tweaked via their own section in Gigabyte's software suite.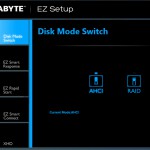 EZ Setup allows users to tweak their storage configuration settings.
Game controller allows users to adjust the operation of their mouse in a gaming environment.
Smart Recovery 2 is Gigabyte's backup manager, while Smart Time Lock allows users to set times for when their system can be operated. The latter feature could be particularly useful to parents making sure their children aren't up all night playing games.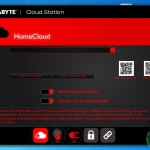 Gigabyte Cloud Station can be used to provide portable devices with access to one's computer.
Sound Blaster X-Fi MB3 software can be used to quickly adjust audio configurations based upon the user's tasks. Different settings can be adjusted to suit one's setup and preferences.
An interesting feature is Scout Mode, which it would seem is a tool that allows the audio settings to be adjusted in order to detect the frequency of actions such as gunfire and footsteps.
Killer Network manager is one of the key reasons that Killer's NICs are popular choices for gaming motherboards. The software allows users to control their system's network operations so that gaming, or other tasks, can be given priority. This can help to ensure that a sufficient level of network bandwidth is delivered where it is required.