Gigabyte supplies the Z97X-Gaming 7 in red and black packaging, representing the newly adopted colour scheme for the company's G1 Gaming series motherboards.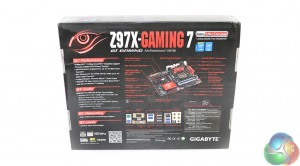 The Gigabyte eye is found on the packaging's front side, while detailed specifications and features are outlined on the rear.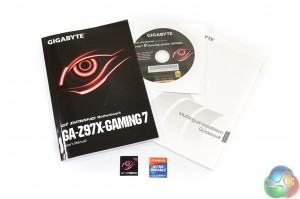 Gigabyte includes a comprehensive manual, an installation guide, a driver CD, and two case stickers.
We must compliment Gigabyte for including a block diagram of the motherboard's system layout in the comprehensive manual; knowledgeable users will be able to analyse the block diagram in order to decide upon the best approach for connecting devices to their system.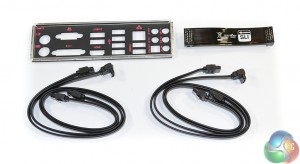 Gigabyte opts for a basic 'no-frills' bundle that comprises four SATA cables, the rear IO shield, and a black SLI bridge. We don't have any complaints with the bundle; there are no glaringly obvious exclusions.