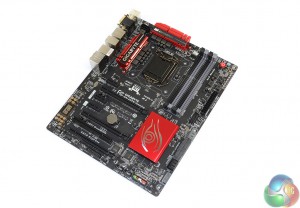 The Gigabyte Z97X-Gaming 7 ships in a red and black colour scheme that seems to be one of the new 'specifications' (sarcasm detected?) for Z97 gaming motherboards. Along with many other gamers and enthusiasts, I am disappointed to see Gigabyte switching away from its unique, eye-catching black and green colour scheme.
While we can understand that green isn't most people's colour of choice, it did allow Gigabyte to offer something that nobody else did in a saturated marketplace. We don't understand why Gigabyte removed their unique colour scheme from its boards; the company has two gaming-orientated line-ups (Z97X Gaming and G1 series) so it would have made sense to put the unique style on at least one of its series.
Gigabyte is using a matte black PCB that doesn't show any signs of ugly brown. The Z97X-Gaming 7's styling is excellent. The red and black fit well together (even if some people prefer green) and the subtle hints of grey add contrast to the board.
We also like Gigabyte's intriguing 'eye' marking that is found on the board's chipset heatsink.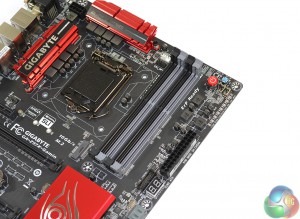 Up to 32GB of DDR3 memory can be installed in the Z97X-Gaming 7 motherboard's four DIMM slots. Gigabyte claims memory frequency support for settings up to 3200MHz, although the real-world limit will be heavily swayed by a CPU's IMC performance.
The memory slots (and CPU socket) are positioned further to the center of the board than usual, which may benefit some users in regards to CPU cooler clearance.
An outwards-facing USB 3.0 header is located near the 24-pin power connector and accompanying debug LED. Gigabyte's decision to position the USB 3.0 header further towards the board's center will make hiding the fat USB 3.0 cable a difficult task.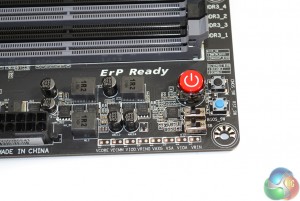 Located near the DIMM slots, Gigabyte provides users with onboard buttons and switches, as well as voltage check points. The tools can be used to certify the operation of a motherboard (as we did when checking operating voltages) or clear the CMOS, for example.
The button functions are: On/Off, Clear CMOS, and Restart. Switches allow for the BIOS mode to be switched between primary and secondary.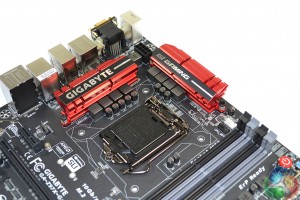 Located around a pair of red heatsinks, eight power phases are used to feed an LGA1150 CPU. Gigabyte cuts costs by opting for a semi-controlled phases design; an International Rectifiers 3570A PWM controller, and IR 3598 helpers, operate a single power channel per two physical phases.
We saw MSI use a similar approach on its Z97 Gaming 5 and it seems to be common amongst many other mid-range (and below) Z97 motherboards. The implementations are likely related to Haswell's constricted overclocking capabilities and the fact that it doesn't require high voltages at moderate (not LN2-calibre) clock speeds.
Gigabyte also makes use of 10K black capacitors that are rated for a lifespan of 10,000 hours at 105°C. I conducted some calculations to certify that, at typical operating temperatures in a consumer environment, the capacitors' ratings translate into a lifespan of many years (almost certainly far greater than the motherboard will be used for).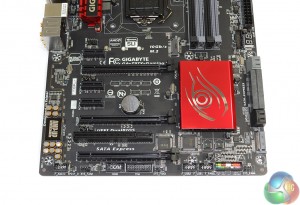 Three CPU-fed full-length PCIe 3.0 slots indicate support for three-card CrossFire and dual-card SLI. Three cards in CrossFire will run at x8/x4/x4, but only two cards running at x8/x8 can be used in SLI due to the technology's insistences on 8-lane pathways.
The bottom full-length PCIe 3.0 slot is hard-wired for four lanes. Installing a PCIe expansion device, such as an x4-linked SSD, into the slot will cause the upper two connectors to operate at x8/x4, terminating the SLI function.
A single PCI connector is provided by an ITE IT8892E bridge chip. We don't have a problem with Gigabyte supplying the legacy port; while its add-on chipset increases the motherboard's cost, it also allows users to hang on to their PCI devices, such as video capture cards. Three PCIe 2.0 x1 slots fill out the expansion area.
Slot spacing on Gigabyte's Z97X-Gaming 7 motherboard is as good as it gets for a non-PLX-equipped LGA 1150 motherboard. Two dual-width boards are given a breathing gap between them, while a pair of triple-slot cards can be installed without interference.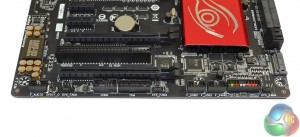 Connections are found in their usual locations along the motherboard's bottom edge. Gigabyte places the audio connector in the bottom-left corner, while front panel headers occupy the right side.
Three fan headers are distributed along the board's bottom edge. The pair of ICs that powers Gigabyte's DualBIOS implementation can be seen situated beneath the chipset.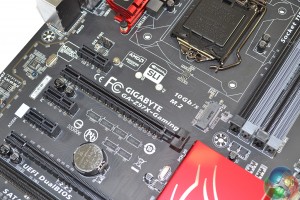 Gigabyte positions the board's 10Gbps M.2 connector above the uppermost full-length PCIe slot, making it accessible even when a graphics card is installed. This does, however, mean that M.2 SSDs with ugly green or blue PCBs will be clearly visible and could ruin a system's aesthetics.
Drives with lengths of 42mm, 60mm, and 80 mm can be installed into the connector. Providing the M.2 connection the chipset's two flexible SATA/PCIe lanes, users can operate both M.2 SATA and M.2 PCIe devices in the slot, without disabling any PCIe x1 connectors. Operating via the chipset's two switchable SATA/PCIe lanes does mean that the function of two SATA ports is lost when an M.2 device is installed.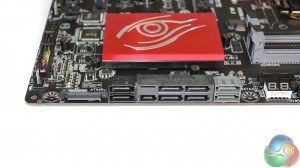 A total of eight SATA 6Gbps ports are present on the Z97X-Gaming 7, six of which are provided by the Z97 chipset, while the remaining two (grey coloured) operate via a Marvell 88SE9172 PCIe x1 host controller.
Two of the chipset-fed SATA 6Gbps ports are used with a PCIe-lane-carrying port to form the 10Gbps SATA Express connector. As indicated by a convenient sticker placed on the board, only one set from the choice of; two SATA 6Gbps ports, the SATA Express connector, and the M.2 slot, can be used simultaneously.
While the 9-series chipset has its inherent bandwidth limitations with simultaneous port usage, we like the fact that Gigabyte deployed both SATA and M.2 connections, allowing users to choose their preferable interface when market adoption of devices is more predominant.
A sideways-facing SATA power connector is used to provide extra current for heavy multi-VGA configurations.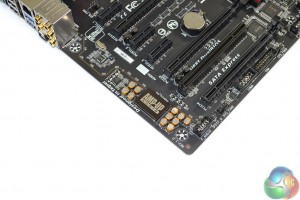 Calling it G1 Audio (with Amp-Up technology), Gigabyte outfits the Z97X-Gaming 7 motherboard with a high-end audio solution. Based around the Realtek ALC1150 codec, Nichicon capacitors help to send signals along a discrete audio pathway, through a Texas Instruments N5532 amplifier, to the gold-plated outputs.
Gigabyte gives users control over their audio configuration by providing Creative's Sound Blaster X-Fi MB3 software, which includes the company's Scout Mode feature for gamers. The board's discrete signal pathway is illuminated by red LEDs for extra 'bling points'.
Gigabyte opts for Killer's E2201 NIC for networking connectivity. There is an ongoing debate between gamers, enthusiasts, and even motherboard vendors as to the performance boosts (if any) offered by Killer's E2200 series chipsets.
Taking performance out of the equation, Qualcomm's Killer Network Manager software is one of the biggest reasons that many motherboard vendors employ the hardware.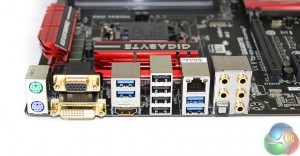 Tending to the needs of gamers, Gigabyte includes both PS/2 keyboard and mouse ports. Four USB 3.0 ports are provided via the Z97 chipset, as is the quartet of USB 2.0 connections. Gigabit Ethernet is powered by the Killer E2201 NIC.
Gold-plated connectors are used for the video and audio ports to ensure minimal contact interference. Some users may miss the omitted DisplayPort connector, although we would be surprised if that's the case on a gaming-orientated motherboard that is likely to be used with a discrete video card.
I would have liked to see a rear panel clear CMOS button for assisting users who overclock their board when it is situated inside a chassis.
Gigabyte uses eye-catching heatsinks on its Gaming 7 motherboard, all of which are coloured in a bright red. Many users were (and still are) disappointed to see Gigabyte switch from its unique green and black colour scheme that was used on previous G1 series motherboards.
We have to agree with user feedback and express our disappointment that Gigabyte's aesthetic designers chose to follow the crowd, rather than stand out from it.
It's worth noting that Gigabyte uses a weak push-pin (similar to the stock Intel cooler) mechanism to secure the board's heatsinks. This results in noticeable movement when any form of force is applied to the units. A solid screw-in or bolt-in method of attachment would have been preferable.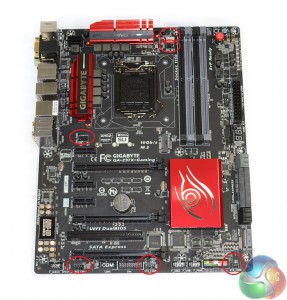 Powered by an ITE IT8620 Super I/O chip, six fan headers are supplied on the Z97X-Gaming 7. Three (two 4-pin, one 3-pin) are found along the board's bottom edge, one 4-pin header sits near the rear chassis fan position, and two 4-pin connectors provide CPU cooling duties.
Distribution of the fan headers is good, although being critical, we would have liked to see one of the connectors from the bottom edge shifted up towards the 24-pin area.