ATTO Disk Benchmark

The ATTO disk benchmark is a Windows-based utility for testing storage performance of any storage drive or controller. We use the default benchmark setup.
M.2 PCIe Performance

For M.2 testing we use a Toshiba OCZ RD400 256GB M.2 PCIe NVMe SSD.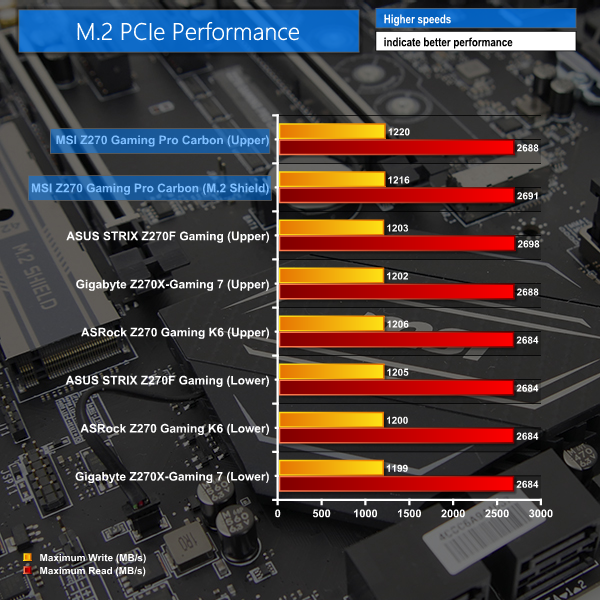 Worth pointing out is that MSI's X BOOST software had no benefit on M.2 SSD transfer rates.
PCIe NVMe performance from both of the MSI Z270 Gaming Pro Carbon's M.2 slots is without bottlenecks. The upper slot can show tendencies for thermal throttling on the SSD. A heavy, sustained write operation will likely force a hot SSD such as the Samsung 950 Pro to thermal throttle and lose performance.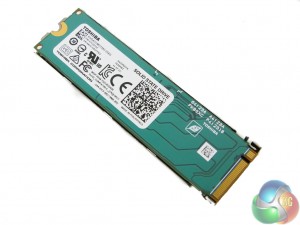 And that's where MSI's M.2 Shield trump card comes into play. Mounting the M.2 SSD against a thermal pad connected to a metal heatsink works well for minimising thermal throttling issues. It has a secondary benefit of hiding the ugly green PCB of certain M.2 SSDs.
Thermal imaging shows the M.2 SSD hotspot operating at a higher temperature when not installed in M.2 Shield. The thermal pad and metal bracket from M.2 Shield help to spread heat across a larger surface area thus reducing the localised operating temperature and helping to reduce the risk of thermal throttling occurring.
USB 3.1 Performance
We test USB 3.1 performance using a pair of Corsair Force LE 120GB SSDs in RAID 0 connected to an Icy Box RD2253-U31 2-bay USB 3.1 enclosure powered by an ASMedia ASM1352R controller.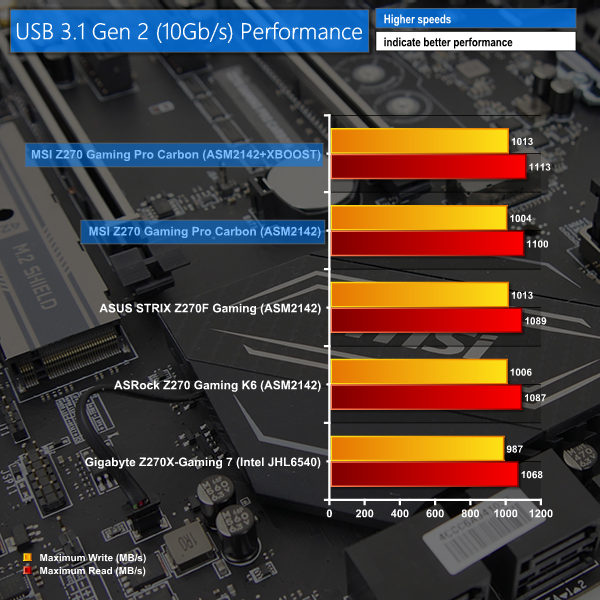 USB 3.1 Gen 2 performance is strong thanks to the use of ASMedia's new ASM2142 chipset. X BOOST software does little to improve transfer rates on our test equipment though it does help to improve the consistency of the sequential speeds, as show by the ATTO charts. This is using the Windows 10 OS.
SATA 6Gbps Performance
For SATA 6Gbps testing we use a SK Hynix SE3010 960GB SSD.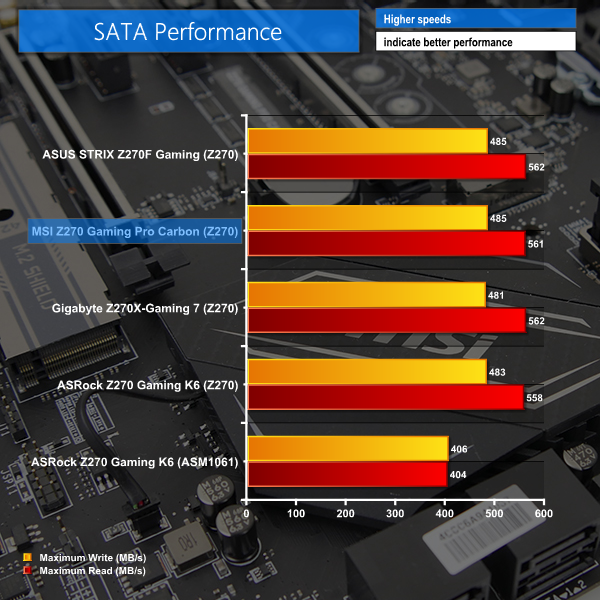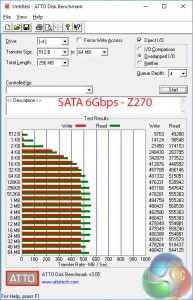 SATA performance is as expected. No speed bump from X BOOST here.
Audio

Rightmark Audio Analyser is a freeware benchmarking utility designed to objectively test the performance characteristics of audio solutions. We setup a line-in line-out loop and execute the record/playback test before generating the results report you see below. A sampling mode of 24-bit, 192 kHz was tested.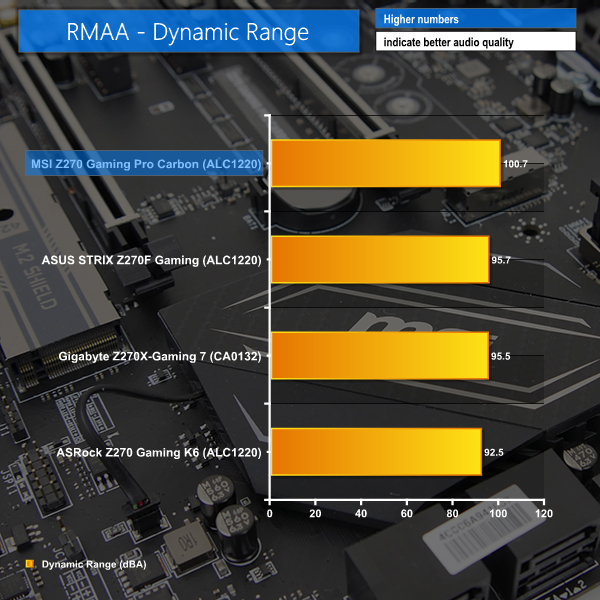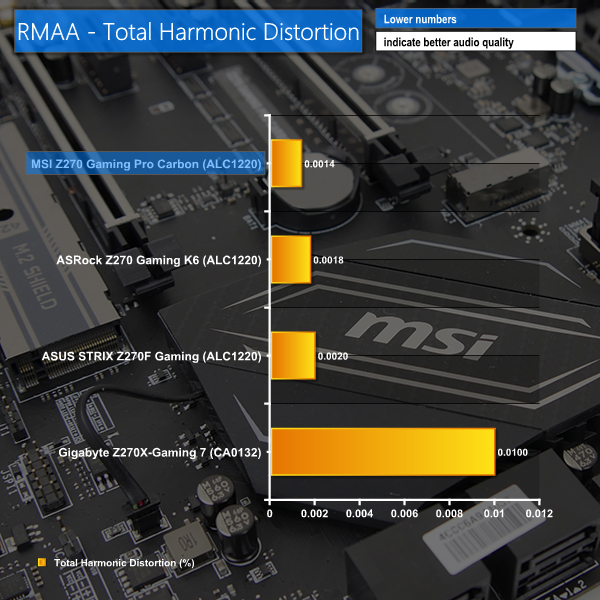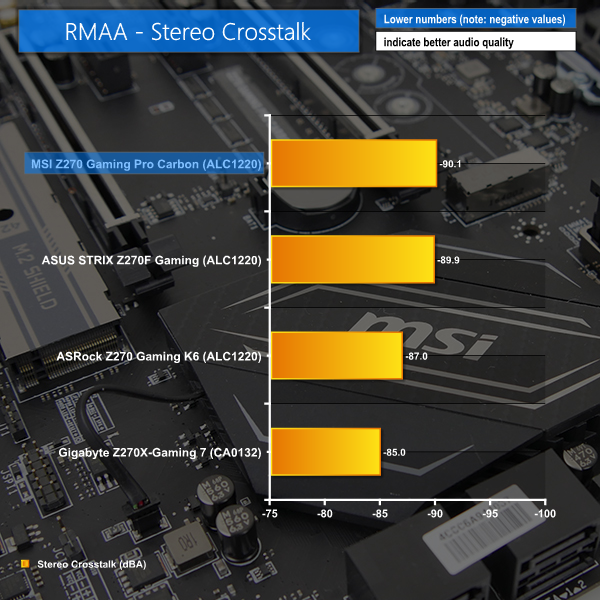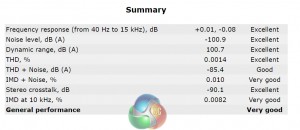 Overall performance from MSI's Audio Boost 4 system is very strong indeed. Shielding of the codec and distinct PCB tracks seem to have done a good job at minimising signal interference, as shown by the test results.