A primarily black colour scheme is used for the MSI Z270 Gaming Pro Carbon motherboard and this makes sense given the RGB LEDs. PCIe and DIMM slots offer a subtle contrast to the black aesthetic.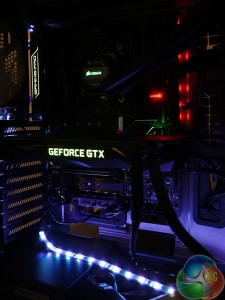 MSI's Mystic Lighting system is excellent. The RGB LEDs shine brightly and can be controlled using OS software. In addition to the 4-pin RGB header, the controllable onboard lighting zones are:
Chipset heatsink
Rear IO cover
Right audio track
Left audio track
Motherboard function LEDs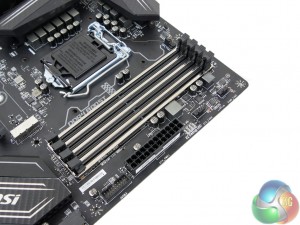 MSI quotes DDR4 frequency support of higher than 3866MHz using overclocking. We are told that MSI now has a team of staff dedicated to enhancing the vendor's motherboard compatibility with high-speed memory modules.
Steel Armor on the DIMM slots does little more than add aesthetic appeal and prevent the board bending during initial module installation.
One of the two internal 5Gbps USB 3.0 headers is located close to the 24-pin connector in an outwards-facing orientation. There are also two 4-pin fan headers (one of which is assigned pump duties and features PWM control) to the right of the DIMM slots.
A total of ten power delivery phases feed the LGA 1151 CPU and its accompanying rails (for iGPU and system voltages).
Stripping off the rather hefty MOSFET heatsinks reveals the electronic components used by MSI. Ten chokes (eight marked 'R42' and two marked 'R22') sit alongside ten Nikos PK632BA and twelve Nikos PK616BA MOSFETs on the low and high sides.
Management of the power delivery system is handled by a UPI uP9508Q PWM controller, uP1961S doublers and drivers, as well as four more components that were too small to have their product information read.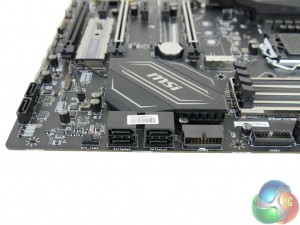 All six of the SATA 6Gbps ports are connected through the Z270 chipset. MSI splits two of these out to the bottom of the board (in an upwards-facing orientation) to improve case compatibility. There is no SATA Express which is hardly a negative point (although is slightly disappointing given its ability to power front panel 10Gbps USB 3.1).
Two internal USB 3.0 headers is ideal for users with four Type-A ports on their chassis. This is particularly convenient given the use of front panel USB ports to power VR headsets.
Not all of the SATA connections can be used if M.2 SSDs are installed. Page 34 of the motherboard manual explains the possible storage configurations well. Put simply, two PCIe M.2 SSDs can be used alongside four SATA ports, one PCIe M.2 SSDs leaves all SATA ports usable, and an M.2 SATA SSD will steal its connection from a physical SATA port.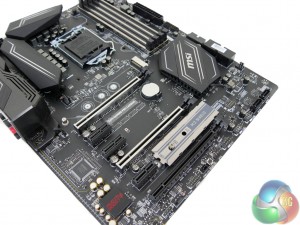 Two M.2 ports are mounted on the MSI Z270 Gaming Pro Carbon, both of which offer support for 32Gbps PCIe 3.0 x4 NVMe M.2 SSDs as well as M.2 SATA drives (boosted by two individual ASM1467 re-drivers). The upper port can handle 110mm-long SSDs whereas the lower port can take up to 80mm drives (which are most common). U.2 is only available via a M.2-to-U.2 adapter card (purchased separately) but certainly won't be good for cable management efforts.
Both M.2 ports can be used simultaneously and they can support a pair of SSDs in RAID 0 to increase transfer rates (for both SATA and PCIe, but not a mix between the two). In fact, MSI's M.2 Genie tool allows three PCIe 3.0 x4 NVMe SSDs to be used together in RAID 0 (two via M.2 or an M.2-to-U.2 adapter and one via a PCIe slot, for example). Better yet, the drives don't have to be the same since RAID doesn't technically require identical drives. How do you fancy a couple of Samsung 960 Pro SSDs partnered with an Intel SSD 750?
MSI's M.2 Shield is a superb piece of innovation that is so simple to design and implement. A basic strip of metal is fitted with a thermal strip that can be used to carry heat away from an M.2 SSD. This is particularity useful given the tendency of high-speed M.2 SSDs to thermal throttle and lose a significant amount of performance during sustained workloads (especially writes).
We will test the ability of M.2 Shield later in this review.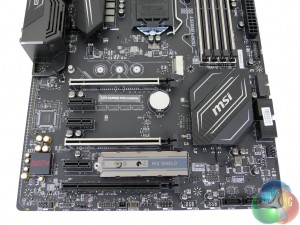 Both of the CPU-fed PCIe slots feature MSI's Steel Armor connectors. Added sturdiness is the primary benefit of the Steel Armor slots but there are also EMI reduction and aesthetic aspects in play. MSI is keen to highlight that the steel on its slots is routed through the PCB in order to actually improve mechanical rigidity rather than simply look good.
The PCIe lane distribution for the two primary full-length slots is x16/x0 or x8/x8. 2-card SLI and 3-card CrossFire are supported thanks to the latter's ability to use a chipset-fed PCIe 3.0 x4 link from the lowest full-length slot. Want to go all-out? Two GPUs can be run alongside three PCIe 3.0 x4 SSDs simultaneously (PCIe slot and 2x M.2).
Slot spacing of the primary lanes is smart and allows for a 1-slot cooling gap between a pair of dual-width boards. Three PCIe 3.0 x1 slots are available for peripheral card installation, though only one will actually be accessible if a pair of graphics cards is installed. This is a reflection of MSI's choice to drop the PCIe x1 slot nearest to the CPU socket in favour of support for longer M.2 SSDs (which is a wise move).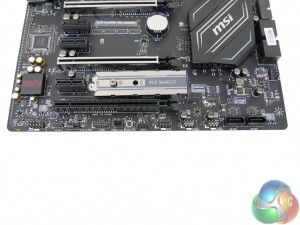 Front panel connections are the usual affair. The 4-pin +12V/G/R/B header is located next to the audio output, in the board's bottom-left corner. MSI includes a DemoLED button which allows the board's RGB LEDs to go into overdrive and display a number of dynamic modes and colours.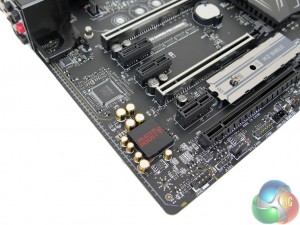 MSI's Audio Boost 4 system is based around the new Realtek ALC1220 codec. Situated beneath distinct shielding, Realtek's codec is aided by a Texas Instruments OP1652 op-amp and Nippon audio capacitors. Segregated PCB tracks aim to reduce EMI.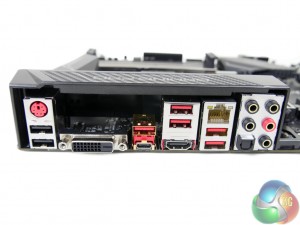 A total of six chipset-fed USB Type-A ports are found on the rear panel, two of which are USB 2.0 and four are 5Gbps USB 3.0. Alongside the pair of USB 2.0 connections is a PS/2 port.
10Gbps USB 3.1 Gen 2 is found in Type-A and Type-C form thanks to the ASMedia ASM2142 chipset and ASM1543 Type-C logic. Both of these ports, in addition to the pair mounted above a HDMI 1.4 output, are marked as VR-Ready ports. These ports are fed by a 'VR Boost' chip and ASM1464 repeater (USB 3.0) that aim to ensure delivery of a clean power signal, similar to the audio-marketed (DAC) ports from previous motherboard generations.
Gigabit Ethernet is provided by an Intel I219V chipset. The DVI-D port is single link and can only support resolutions up to 1920×1200 at 60Hz. I would have liked to see a 4K-capable Displayport or HDMI 2.0 connector included.
MSI's heatsinks do their job for cooling performance. The chipset heatsink features LED lighting that glows in MSI's company name. The words 'Gaming Pro' are lit on the rear IO cover.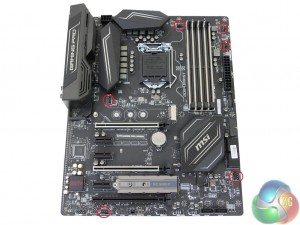 Six 4-pin fans are spread around the board, two of which are allocated CPU and Pump (or CPU fan) duties. I would have liked to see an additional CPU fan header which would allow dual-fan AIO coolers to operate in a controlled mode in addition to their pump unit.
Despite all of the headers being 4-pin, only the CPU and Pump offerings feature PWM control. The remaining four chassis fan headers are controlled via a DC method, which works well in MSI's software. Nuvoton's NCT6795D-M is in charge of fan control and system monitoring.
Be sure to check out our sponsors store EKWB here