Automatic CPU Overclocking:
We applied MSI's OC Genie automatic overclocking tool via the physical button found on the motherboard. A virtual button can also be clicked in the UEFI to enable OC Genie clock speeds.
MSI uses a very conservative OC Genie profile that doesn't actually overclock our 4790K CPU. What does change, however, is the CPU's operating voltage. MSI maintains the same 4.4GHz processor frequency that is used with MCT enabled, but the CPU core voltage is dropped to 1.20V, which peaks at 1.216V when loaded.
Despite the identical clock speed level, MSI's OC Genie does manage to shave 40mV off the CPU's operating voltage. That's a benefit for users wary of heat output and is one that could enhance the lifespan of a processor. Nevertheless, performance purists who rely on automated overclocking will miss a speed-boosting function that competing vendors offer.
Manual CPU Overclocking:
To test the MSI Z97 Gaming 9 AC motherboard's CPU overclocking potential, we first increased the CPU VCore to 1.30V, Cache voltage to 1.275V, CPU Input Voltage to 1.900V, and PCH voltage to 1.10V. We also enabled Filter PLL and set the cache ratio to 40x.
Our initial attempts to reach 4.7GHz resulted in consistent BSODs. It was clear that enabling Filter PLL was a critical function in the stability process. We adjusted a number of other voltage parameters including: a System Agent offset of +0.30V, +0.15V on the CPU I/O Analog voltage, and +0.20V on the CPU Digital I/O voltage level.
While the additional offset voltages helped stability for short periods of time, we had to increase the CPU VCore by 10mV, to 1.31V, to maintain stability at 4.7GHz.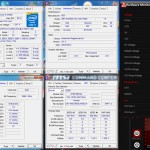 With a CPU VCore of 1.31V applied, the MSI Gaming 9 AC fed our 4790K with 1.336V under load. A 26mV overshoot is acceptable, especially with the board's target audience likely to be knowledgeable users who will spot the peak voltage level and tweak their settings accordingly.