In typical fashion for its Gaming series parts, MSI colours the Z97 Gaming 9 AC in a deep black and red scheme. The matte black PCB stays true under all lighting conditions, while the subtle hints of red act as eye-catching points of contrast.

I've said it before, but the point still stands; MSI's designers have done an excellent job with the appearance of their Gaming series motherboards over the past few generations.
Called Dragon Armor by MSI, dark black perforated shields cover the board's audio section and rear IO ports. Other than the potential for reduced electromagnetic interference (EMI), Dragon Armor serves no functional value – it's an aesthetic component.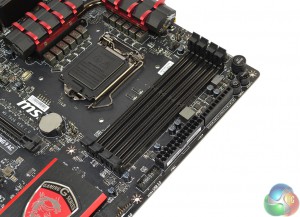 Four double-latch DIMM slots can be used to house up to 32GB of DDR3 memory. MSI quotes maximum speed compatibility for 3200MHz sticks, although a CPU's IMC and the memory modules themselves will play a crucial part.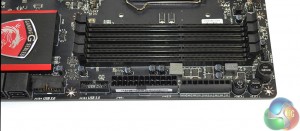 Onboard buttons and voltage check-points form part of MSI's OC Essentials. Cables are included to allow for direct voltage readings to be taken by a multimeter. The power, reset, and OC Genie buttons are positioned in an easy-to-access location and all fit in with the board's underlying colour scheme.
Two internal USB 3.0 connectors feed signals directly from the Z97-based SuperSpeed ports. One of the connectors is angle at 90 degrees, while the other faces directly upwards. This decision is a smart one, as MSI can ensure that all users are able to connect to at least one of the headers in their potentially-confined chassis.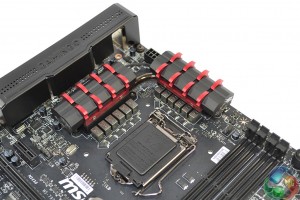 Twelve power delivery phases are used to feed an LGA 1150 CPU. MSI's power delivery components form part of its Military Class 4 system. As well as 60-Amp Super Ferrite Chokes (SFC), Military Class 4 components also include Tantalum-based 'Hi-c' and temperature-resilient 'Dark Cap' capacitors.
A six-phase Intersil ISL6388 PWM controller drives the twelve CPU phases. MSI uses a 'semi-full' design which sees two physical phases driven by a single PWM channel. This limits the electronic operational range of the power phases, although its effect on overclocking performance may not be significant.
This semi-driven design is usually reserved for mid-range Z97 motherboards, not those sat in the high-end segment of the market. Asus' cheaper Maximus VII Hero uses a full-driven power delivery system, so it's a shame that MSI decides to cut costs and not compete against the likes of the Hero on this aspect.
The MOSFETs are cooled by a pair of 'heatsinks' which are connected by a heatpipe. I used the word 'heatsink' carefully as the structure that MSI uses is poorly designed from a heat exchange perspective. Judging by the inclusion of a red LED around the metal  blocks, it seems that MSI is opting for form over function.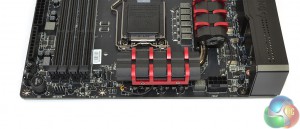 Two fan connectors, an 8-pin power port, and the link for the LEDs' operation reside along the motherboard's upper edge. MSI puts some spacing between the two 4-pin CPU fan headers for cable management reasons.
We would have preferred both connectors to be firmly sat against the motherboard's upper edge, making hiding cables a simple task.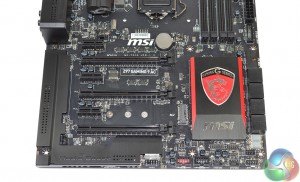 To reserve space for its sizeable audio system, MSI does not use the full cohort of expansion slots. Three full-length PCIe slots provide graphics capability, while three more PCIe x1 connectors can be used to house low-bandwidth devices. PCIe 3.0 lane allocation is x16/x0, x8/x8, or x8/x4/x4. The number of PCIe 2.0 x1 lanes in bolstered by the ASMedia ASM1084e switch's four downstream ports for a single input lane.
MSI's expansion slot layout is interesting. Two- and three-way graphics configurations can be installed on the board, provided the cards use dual-slot coolers. Two-way SLI or CrossFire with triple-slot cards will cause all sorts of interference nightmares along the motherboard's bottom edge.
The layout of MSI's Z97 Gaming 9 AC could have been enhanced by shifting the uppermost PCIe x16 slot to the top position, but this does induce the potential for CPU cooler and memory interference issues. On the other hand, users of two triple-slot cards would be compensated for and operators of two dual-slot cards would be given a cooling gap.
I can see MSI's logic and difficulties in tailoring the board for two- and three-card users, but I would be inclined to put more emphasis on the use of two-way SLI/CrossFire. The volume of users that operate three-way CrossFire on the LGA1150-based platform is small. Layout is a tough decision to make.
Positioned below the secondary full-length PCIe slot is the board's 10Gbps M.2 connector. While the connector's position makes it accessible with one graphics card installed, it also makes a potentially ugly M.2 drive clearly visible. MSI is still using the small screw that makes finding a compatible screwdriver a difficult task.

Six of the eight right-angled SATA 6Gbps ports operate directly from the Z97 chipset, while the remaining two (furthest to the left) run from the popular ASMedia ASM1061 chipset.
SATA Express connectivity is omitted from MSI's board, with the company instead opting to go down the M.2 route. While this decision may be justified in the coming months, the prevalent connection of the near future is still unclear, so I would have preferred MSI to include both connections.
Located to the left of the SATA port bank is the board's two-digit debug LED. After showing boot codes, the LED display is used to highlight the CPU temperature.
MSI's Audio Boost 2 system and its Xtreme Audio DAC is a particularly high-end configuration. Instead of spending money on an expensive PLX chip to provide 4-way SLI, MSI instead spent big on the Z97 Gaming 9 AC board's audio system.
At the heart of the system is a C-Media CM6631 audio processor that delivers a 120dB signal-to-noise ratio with a 32-bit output. This processor is used in tandem with the popular Realtek ALC1150 codec.
A Wolfson WM8741 DAC and Cirrus Logic CS5346 ADC act as support mechanisms for the C-Media processor. A Texas Instruments TPA6120A2 and two of the same company's OPA1652 amplifiers drive headphones with impedance levels of up to 600 Ohms.
Nichicon and WIMA audio capacitors, a Hongfa anti-popcorn-noise filter, direct power through molex, and comprehensive EMI shielding complete Audio Boost 2 for the Z97 Gaming 9 AC.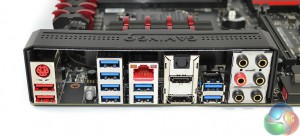 The red USB 2.0 and PS/2 ports are MSI's Gaming Device ports which can be tuned for options such as polling rate. Killer's E2205 NIC power the Gigabit Ethernet connector. A clear CMOS button is also found in its convenient location – on the rear IO.
Eight USB 3.0 ports are provided on the rear IO. Although MSI doesn't state it, our testing suggests that the two ports furthest to the right operate from an add-on ASMedia ASM1042AE host controller. The other six are provided by means of ASM1074 hubs.
The empty spot on MSI's PCB is where the 802.11ac WiFi and Bluetooth module is mounted. Intel's Wireless-AC 7260 chipset it used to provide the connections. Unfortunately our 802.11ac wireless router was unavailable at the time of testing.
MSI uses a low profile black and red heatsink to cover the Z97 chipset. The Gaming series badge and company logo are also imprinted onto the heatsink, while the 'Gaming 9' part name is embossed onto the Dragon Armor IO cover.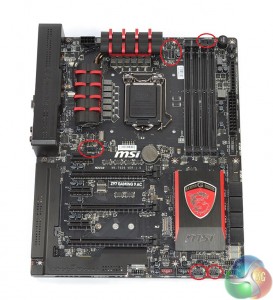 Distribution of MSI's five 4-pin fan headers is good. Three connectors located within reaching distance of the CPU socket is sufficient, although one of those is the important header that is typically used for a rear case fan.