Firstly, we are pleased to report that our NZXT Avatar S mouse worked to its usual standard in the MSI Z97 Gaming UEFI. MSI uses an identical UEFI for all of its Z97 Gaming series parts.
Note: Screenshots for MSI's Z97 Gaming UEFI are taken from our Z97 Gaming 5 motherboard review.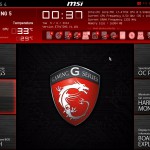 MSI's UEFI is formed of six key sections, all of which are listed on the frame's left and right sides. Basic system information is constantly displayed at the top of the screen.
Boot device priority can be quickly adjusted by dragging the relevant drive into its start-up position. The same easy application is true for OC Genie and XMP modes – simply click the relevant buttons in the frame's top-left corner.
In the Advanced mode, MSI provides plenty of adjustable voltage, frequency, and power settings which give users a good degree of control over their system. The Simple mode features fewer adjustable parameters and is better suited to practising overclockers.
MSI has applied some subtle tweaks over its Z87 iteration of Click BIOS 4, but the layout would still benefit from a clean-up. A number of readouts are still mixed together with input parameters which makes the interface seem more disordered than it actually is.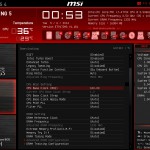 One of the actions that MSI has taken to tidy its UEFI is adding an Info section on the right side. The section is used to display basic information relating to voltages, irrelevant of the parameters that are being tweaked.
Had MSI used this 'add-on' section approach throughout its BIOS, displaying information relevant to the parameter that is currently being tweaked, the interface would have a much tidier feel to it. Some frequency readings would be welcomed too.
DRAM multipliers for frequencies of up to 3200MHz can be applied via the UEFI. Timings settings can also be tweaked.
MSI includes a feature it calls 'Memory Try It!'. The tool allows memory settings to be adjusted by the motherboard, dependent upon a user's selection. While not as heavily tweaked as customised pre-sets configured by in-house professional overclockers, Memory Try It! is arguably more valuable to the Z97 Gaming 9 AC motherboard's target audience.
Up to six OC profiles can be saved and named. This is a good number to provide as it gives users flexibility when testing out different overclocking configurations. Profiles can also be imported and exported from or to a USB drive for backup and sharing purposes.
Another new feature for MSI's Click BIOS 4 is the Favourites section. Users are free to add some of their commonly accessed parameters to the Favourites profile. The default home page can also be changed.
Toning down its complex monitoring section found on the Z87 series motherboards, MSI employs a fundamentally simpler means of tweaking fan speeds with the Z97 Gaming UEFI.
Four points on a speed against temperature curve can be adjusted to change the fan's operation. For CPU fans, the minimum point can be set as low as 12.5% speed with a 40°C lower threshold. The same flexibility is provided to system fans, although the minimum speed level is increased to 50%.
For users who prefer a static fan speed level, un-checking the Smart Fan Mode box allows a continuous fan speed percentage to be set.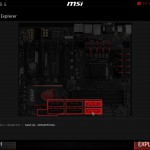 One of the most useful features in MSI's BIOS is Board Explorer. The tool displays an image of the board which highlights the components that are installed. Hovering over the certain sections displays information regarding the connected components or devices.
The tool has great potential as a troubleshooting measure. For example, a faulty memory stick can be easily identified if its function isn't highlighted in the board explorer tool.
The implementation of board explorer on our current BIOS did not work well – many of the readings were incorrect and connected components were not showing up. This is something that we trust MSI to fix with future BIOS updates.
A number of settings, including PCIe lane configurations and the convenient GO2BIOS function, can be adjusted.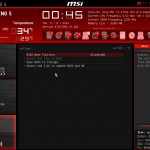 MSI's M-Flash BIOS updating tool continues to refuse to enter folders in a USB flash drive. This is a negative point because users are forced to mess up their flash drive's organisation by putting the BIOS file in the root folder.
Competing motherboard vendors have tools that are able to navigate storage drives and USB memory sticks with ease. MSI is lagging behind in this respect.
MSI's updates to the Click BIOS 4 interface have enhanced to system's ease of use. Novice overclockers are given additional information and assistance as they learn about specific settings, and they can even apply a constricted 'simple' mode if they are worried about applying damaging settings.
The interface still has its issues though, and further updates are required if MSI is to compete with the excellent implementation used by Asus. Some of the layout options still result in a messy appearance and certain parameters that should not be on the board are present.
While many of the issues are small, arguably negligible points, they can add up quickly and have the potential to dampen the experience of using MSI's Click BIOS 4 interface.