The Haswell micro-architecture in Devil's Canyon processors is just the latest Intel CPU architecture to see many of the critical system operations handled by the processor. As such, benchmarking a motherboard becomes more of a test to certify that the part operates correctly and meets the anticipated performance levels.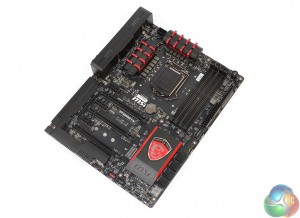 We will be outlining the MSI Z97 Gaming 9 AC motherboard's performance with the Core i7 4790K CPU at its stock frequency (4.4GHz due to forced turbo). Overclocked performance will be outlined later in the review.

All motherboards are partnered with identical hardware and software, so the results are directly comparable.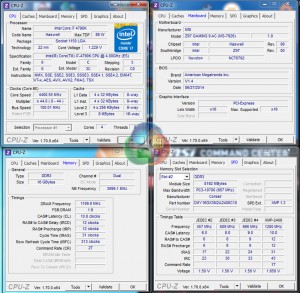 By default, the MSI Z97 Gaming 9 AC motherboard applies multi-core turbo (MCT) and forces the 4790K to a constant 4.4GHz when XMP is enabled. This will be displayed as the 'stock' setting (and outlined in the charts' brackets after the non-turbo stock speed is displayed).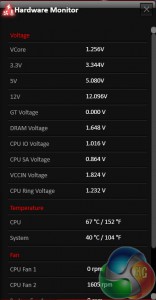 MSI uses the standard voltage level of around 1.23V VCore for the 4790K at its MCT frequency. With a load applied, the core voltage peaks at 1.256V, which is a fair level for a 4.4GHz clock speed and should be safe with most decent air coolers.
Z97 Motherboard Test System:
Compared Z97 Motherboards:
Software:
MSI Z97 Gaming 9 AC BIOS v1.4 (latest).
Catalyst 14.4 VGA drivers.
Intel 10.0 chipset drivers.
Tests:

3DMark 1.3.708 – Fire Strike (System)
SiSoft Sandra 2014 SP2 – Processor arithmetic, memory bandwidth (System)
Cinebench R15 – All-core CPU benchmark (CPU)
WinRAR 5.10 – Built-in benchmark (CPU)
HandBrake 0.9.9 – Convert 4.36GB 720P MKV to MP4 (CPU)
ATTO – SATA 6Gbps, USB 3.0, M.2 transfer rates (Motherboard)
RightMark Audio Analyzer – General audio performance test (Motherboard)
Bioshock Infinite – 1920 x 1080, ultra quality (Gaming)
Metro: Last Light – 1920 x 1080, high quality (Gaming)
Tomb Raider – 1920 x 1080, ultimate quality (Gaming)