SATA
For SATA 6Gb/s testing we use a Kingston HyperX 3K (SandForce SF-2281) SSD.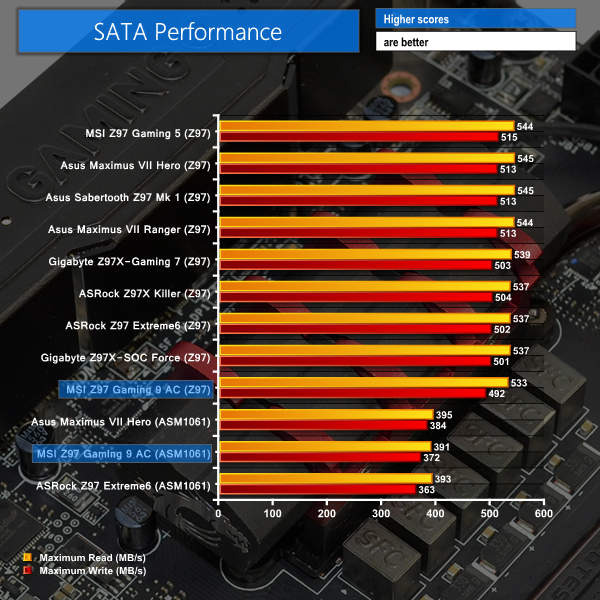 Although MSI's Z97 Gaming 9 AC seems to take a bottom spot, of sorts, with its Z97 SATA speed, degradation on our ageing Kingston SSD has a role to play in the results. Even with that said, performance differences between all Z97-based SATA connections are relatively small.
Relying upon ASMedia's popular ASM1061 chipset for its added pair of SATA 6Gbps ports, it is clear that MSI's part sees the same speed limitations as those from competing vendors.
M.2 connector
We use Plextor's ultra-fast M6e 256GB M.2 SSD to test the speed of a motherboard's M.2 connector. We reviewed the 512GB Plextor M6e (and its PCIe x2 adapter card) HERE.
We also use a Kingston M.2 SATA device to confirm the motherboard's operation with M.2 SATA connections.
M.2 performance through the board's chipset-fed connector is where we would expect it to be.
We installed and tested Kingston's M.2 device with a SATA-based controller to confirm that the MSI Z97 Gaming 9 AC can indeed function with SATA-based M.2 drives.
USB 3.0
We tested USB 3.0 performance using the Kingston HyperX 3K SSD connected to a SATA 6Gb/s to USB 3.0 adapter powered by an ASMedia ASM1053 controller.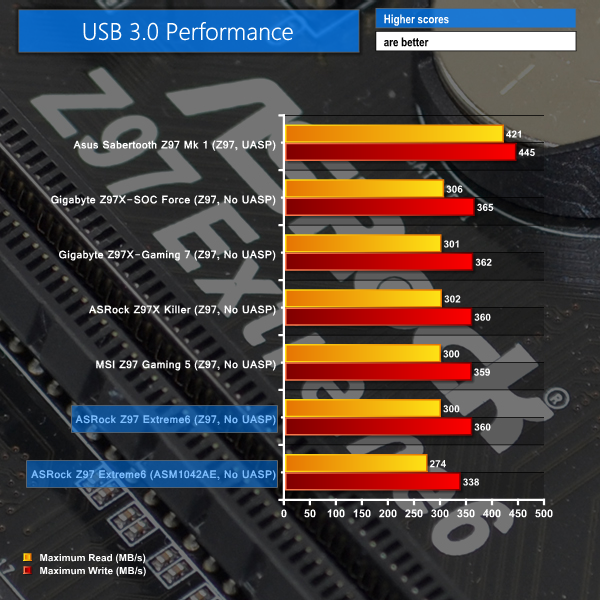 USB 3.0 performance through MSI's chipset-based ports is similar to that of other non-UASP motherboards. A few megabytes are dropped, compared to competing options, but those losses are related to MSI's use of an ASMedia ASM1074 4-port hub.
Speed of the ASM1042AE USB 3.0 ports is slightly lower than the Z97-based alternatives. MSI's inclusion of the add-on ASMedia chipset is purely to bolster the board's total number of the SuperSpeed connections.
Audio

We use RightMark Audio Analyzer (RMAA) to analyse the performance of the motherboard's onboard audio solution. A sampling mode of 24-bit, 192 kHz was tested.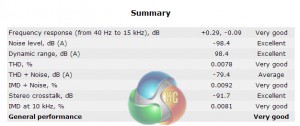 Audio Boost 2 for the Z97 Gaming 9 AC uses a C-Media CM6631 audio processor that delivers a 120dB signal-to-noise ratio with a 32-bit output. This processor is used in tandem with the popular Realtek ALC1150 codec.
A Wolfson WM8741 DAC and Cirrus Logic CS5346 ADC are also present, alongside Texas Instruments TPA6120A2 and two OPA1652 amplifiers. Nichicon and WIMA audio capacitors and a Hongfa anti-popcorn-noise filter are also utilised.
MSI's high-end audio system delivers Very Good performance according to RMAA. Stereo crosstalk, noise level, and dynamic ranger performance are particularly strong, indicating that the motherboard's EMI-minimising factors are working well alongside the high-end audio components.