As alluded to earlier on in the review the differences between this ASUS ROG Strix Z370-E Gaming and prior generation motherboards are incremental rather than substantial. ASUS Z370 delivers a similar motherboard to Z270 in terms of pricing, features and connectivity – the main difference to the ASUS Z270 portfolio is support for Intel's new 6-core Coffee Lake CPUs mixed with some minor revisions.
ASUS isn't guilty of rebranding the ROG Strix Z270-E Gaming under a different name, but there is an element of "spot the difference" when comparing the two both in aesthetics and specifications. In some regards ASUS has its hands tied by the fact Intel has released Z370 as an almost identical platform to Z270 and in such quick succession.
Nonetheless ROG Strix Z370-E is still a quality product with a good blend of USB, M.2 and PCIe connectivity, a well-engineered BIOS, strong power delivery solution and a good range of software utilities. We were particularly pleased to see ASUS has fixed a number of outstanding issues with its AURA RGB software from the Z270 generation.
On the topic of RGB LEDs the fact ASUS has included these only on the rear I/O shroud isn't adequate for the price point and comes across as a cost-cutting measure. Either do RGB properly or don't do it at all; ASUS ROG buyers rightfully expect better. The inclusion of two 12V and one 5V RGB headers does go some way towards mitigating the drought of onboard RGB LEDs.
The use of the Realtek RTL8822BE WiFi solution, compared to rivals who offer Intel WiFi which is seen as "premium", is another area of contention for an upper mid-range motherboard like this one. The ongoing debate about whether Intel is better than Realtek (or Qualcomm/Killer for that matter…) in the networking space remains active, whether or not that is underpinned by hard evidence is unclear.
ASUS, like MSI's Z370 Gaming Pro Carbon AC, is lacking in overclocking specific features. There are debug LEDs for the POST and a well-versed UEFI, but there's no onboard power/reset/clear CMOS buttons, dual BIOS or code reader. At the price point these omissions are increasingly common and certainly not unusual, but still a little annoying.
The rear I/O raised eyebrows with ASUS offering only 6 USB ports – 2 of each generation (2.0/3.0/3.1). Instead the rear I/O is jammed with three display outputs for a class of motherboard aimed at an audience highly unlikely to ever use integrated graphics.
ASUS does have some leg-ups over the competition including extra USB 3.1 provision through a USB 3.1 front panel header as well as a more sensible arrangement of fan headers around the CPU socket. The attempt by ASUS to add more novelty to the PCB design is also welcomed in a market where everyone and their dog is using plain matte black PCBs.
All things considered the ASUS ROG Strix Z370-E Gaming is a good overall motherboard but feels slightly thrifty on features given its price and is down on excitement and innovation for something that carries the ROG banner.
Additional incentives from retailers may be required to get consumers to bite when rival motherboards offer more bang-for-buck. That said, ASUS ROG has always been a premium and reliable brand in the DIY PC space and the Z370-E still meets those expectations. It's a reliable all-rounder that delivers a relatively faultless building and usage experience.

The ASUS ROG Strix Z370-E Gaming motherboard has a suggested retail price (SRP) of £199.99 and is sold with a 3 year warranty as standard.
Pros:
Excellent blend of connectivity for the platform
M.2 cooling solution
Unique PCB styling
Good fan header arrangement around CPU socket and excellent fan controls
USB 3.1 front panel
High quality audio implementation
Cons:
Onboard RGB LEDs too basic for the price point
Intel Z370 is locked to Coffee Lake CPUs only
6 rear USB ports is low for this segment
Light on overclocking-specific features
KitGuru says: A reliable all-rounder for Intel's new Coffee Lake CPUs, the ASUS ROG Strix Z370-E Gaming is a well-executed, if a little unexciting, motherboard.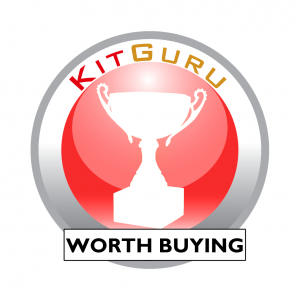 Be sure to check out our sponsors store EKWB here