Thermal dynamics
To find the NCO2U5's idle temperature, I left Windows on the desktop for 30 minutes. The 'load' temperature reading comes from running Prime95 and 3DMark Fire Strike simultaneously.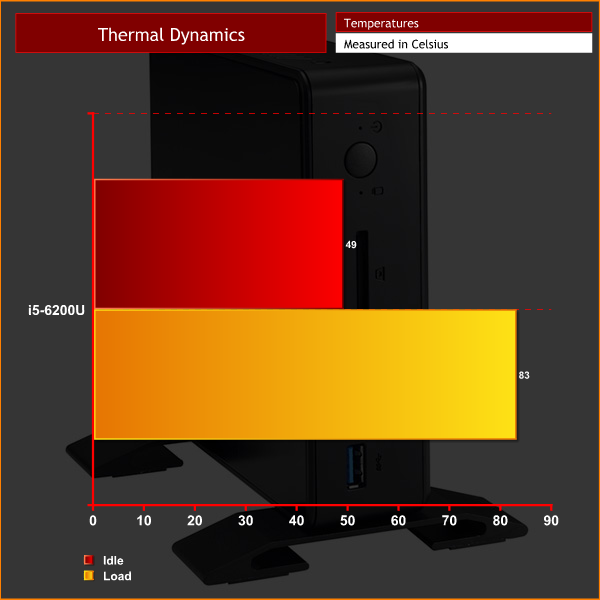 While the idle reading is a bit high for my liking, neither temperatures are dangerously high – which is about as good as it gets considering the tiny form-factor.
Acoustics
The high idle temperature is most likely due to the fact that the CPU fan does not spin very fast at all, and as such, it is very quiet. In fact, in the majority of situations, I could not hear the NCO2U5 over any background noise. It was only until I stressed the CPU to 100% using Prime95 that I heard the fan ramp up and it began to sound like a laptop getting too hot.
For most people, though, it is unlikely that the CPU will be stressed to that level – so you can expect a very quiet system.
Power consumption
To get the 'idle' power draw for the NC02U5, I left Windows on the desktop for 30 minutes. The 'load' power draw reading comes from running Prime 95 and Fire Strike simultaneously.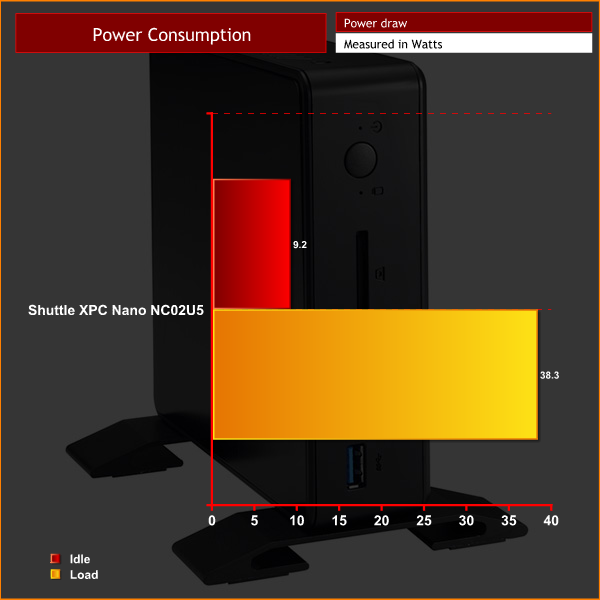 On their website, Shuttle list the maximum power draw one can expect from the NCO2U5 to be 36.4W when stressing the CPU and integrated graphics. Our testing essentially confirms this, as I measured a load reading of 38.3W.
This difference is certainly within the margin of error, and could also be accounted for by the fact that we used different testing methods. Either way, power consumption is very low and certainly nothing to be worried about.