Temperatures
To make sure that the OCUK Titan Electron is not getting too toasty with its stock cooling solutions, we took temperature readings of its main components during idling, general usage, gaming and high-load scenarios. We also measured power draw during those same instances to see how much you can expect to spend running this system.
To load it, we ran four instances of Prime 95 and the Furmark burn in test simultaneously. While this is far in excess of the load even intensive games are likely to put on this system, this is a good way to make sure that whatever the scenario the Titan Electron will stay within safe temperatures.

Ambient temperatures were maintained at a steady 19 degrees celsius.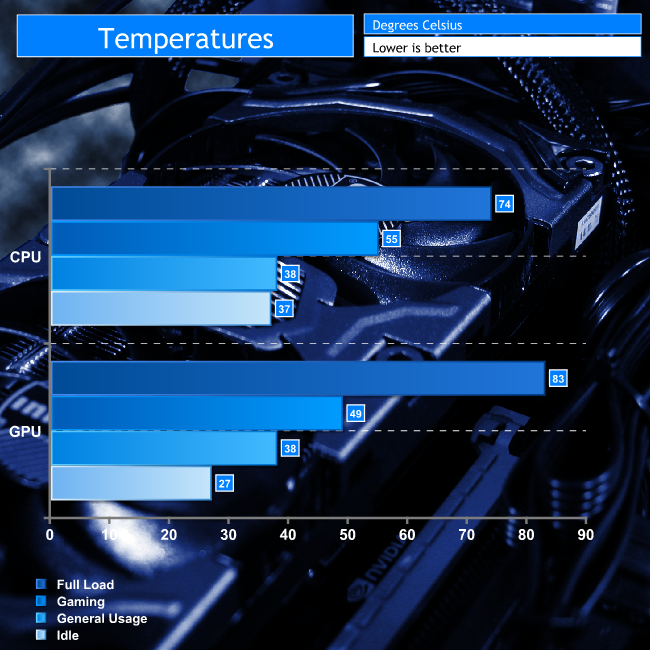 Overclockers UK has done a good job of selecting the right CPU cooler and fan profiles for the job with this system, as during heavy gaming and general usage, there are no problems with the temperature of this system whatsoever.
That said, judging by how it behaves when it is absolutely maxed out, if you were hoping to overclock or tweak this system then we would advise you to improve the cooling inside.
Power Consumption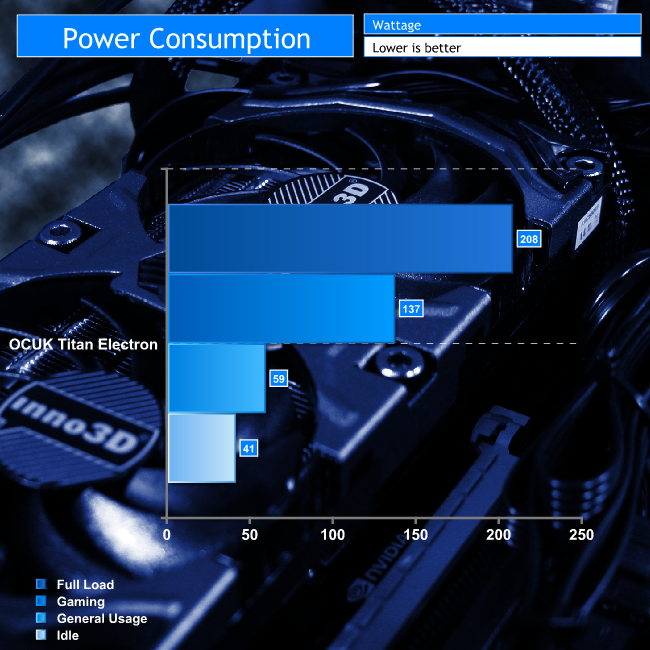 Do not expect a hefty bill when running this system, as it is power draw is not bad at all.
Usability
The OCUK Titan Electron system we were sent is a nice little rig to use. Despite lacking a dedicated solid state drive, it feels snappy and boots quickly into Windows 10, which itself runs very well even with the low-end of the spectrum system specifications. I encountered very little stuttering or frame rate drops in any of the live gaming tests.
It also worked well as a media center, having no issue watching high definition movies or performing office tasks such as photo editing. Web browsing is similarly smooth and multi-tasking is not a problem, despite being limited to just two cores – thumbs up there for hyperthreading. That said I would rather use a fully fledged Solid State Drive as a dedicated boot and gaming drive to improve load times a little.
Noise
Although not silent and certainly a little noisier during gaming or heavy testing, the Titan Electron is barely noticeable, especially when compared to more traditional desktop systems which sport many more fans and coolers. Those requiring absolute silence may need to make some adjustments to fan profiles or to the impellers themselves, but most people will be perfectly happy with how this system sounds.