Ambient noise in the room is around 20-25dBa. We measure from a distance of around 1,5 meters from the closed chassis and 4 foot from the ground to mirror a real world situation.
We use a calibrated meter.
KitGuru noise guide
10dBA – Normal Breathing/Rustling Leaves
20-25dBA – Whisper
30dBA – High Quality Computer fan
40dBA – A Bubbling Brook, or a Refridgerator
50dBA – Normal Conversation
60dBA – Laughter
70dBA – Vacuum Cleaner or Hairdryer
80dBA – City Traffic or a Garbage Disposal
90dBA – Motorcycle or Lawnmower
100dBA – MP3 player at maximum output
110dBA – Orchestra
120dBA – Front row rock concert/Jet Engine
130dBA – Threshold of Pain
140dBA – Military Jet takeoff/Gunshot (close range)
160dBA – Instant Perforation of eardrum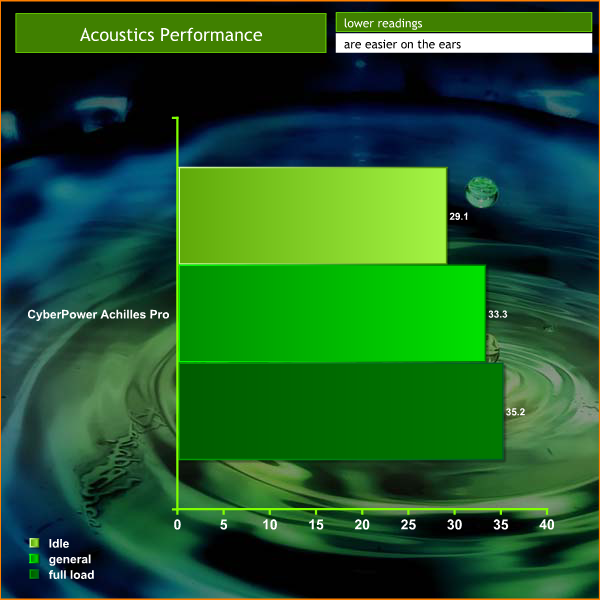 The CyberPower Achilles Pro is a very quiet system, generally not audible at all in a 'normal' environment. Under heavy load the fans do speed up a little, however it is still a very quiet system and ideal for a living room environment – for instance connected to a high definition television.