We covered the X99 launch at the end of August, focusing on Intel's flagship 8 core i7 5960x processor at the time. There is no doubt that the X99 platform offers immense levels of performance – albeit at a price premium. Negatively, there are also still some teething issues behind the scenes, as motherboard partners develop and try to stabilise BIOS configurations.
PCSpecialist have adopted the Asus X99-S motherboard in their Predator X99 System. This demonstrated to be rock stable throughout our testing this week – even with a substantial out of the box overclock on the processor, to 4.4ghz. At this clock speed, the Core i7 5820k is a formidable processor able to not only deal with the latest Direct X 11 game engines at 4K, but 3D rendering duties and high definition video editing.
The exemplary performance of the i7 5820k processor is backed up by 16GB of 2,400mhz DDR4 memory which manages to deliver around 46GB/s of bandwidth. Personally, I would have liked to see this system equipped with 2,800mhz or 3,000mhz DDR4 memory, and perhaps PCSpecialist will offer these configurations on special request.

PCSpecialist have outfitted the X99 Predator system to be a force for Ultra HD 4k gaming. In this regard the AMD R9 295X2 is the best first choice. Including two R9 290X cards in Crossfire wouldn't have been quite so elegant a solution, due to rising noise levels and heat emissions. The watercooled R9 295X2 is the most powerful graphics card that money can buy and performance is not lacking in any regard.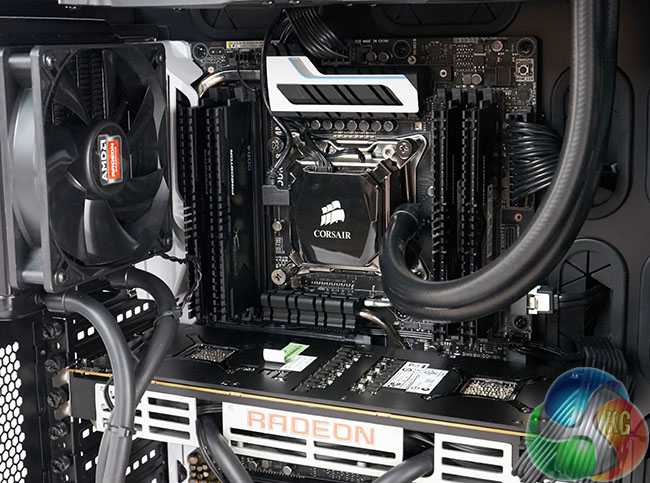 Build quality is very good, and all the cables are carefully routed out of the way behind the motherboard plate. The Corsair Carbide Air 540 is a perfect choice for a system build such as this – as there is plenty of airflow and physical space to hide away cables from sight.
Any system with an R9 295X2 in the mix will demand a lot of +12V juice, and thankfully PCSpecialist have opted for the Corsair RM 1000 watt power supply. We measured peak power demand around 700 watts, so the power supply will be running at 70% power demand during the most intensive situations.
We admire the attention to the smaller details. As we would expect PCSpecialist have installed a large 240GB Solid State Drive for operating system/boot duties, however they have opted for a hybrid 2TB Seagate SSHD drive for primary stories duties. I can't say I am completely sold on these hybrid solid state/mechanical drives, but they do perform to a high level and it didn't seem to cause any issues handling all our STEAM games and benchmark files.
We feel the PCSpecialist Predator X99 System is deserving of the MUST HAVE award. We do present the award with a caveat however. If you are only using this system for gaming duties, then you may be better speaking to PCSPECIALIST and getting an overclocked 4790k/R9 295X2 system instead – you will save hundreds of pounds. The X99 platform can certainly handle 4K gaming duties, however it is a much better proposition if you want to use the system for a myriad of duties including 3D rendering and video encoding.
You can buy direct from PCSPECIALIST at this link for £2,299 inc vat.
Discuss on our Facebook page, over HERE.
Pros:
extremely powerful.
4K gaming powerhouse.
fine selection of components.
Asus motherboard is rock solid.
overclocked i7 5820K is ideal for more serious duties.
Cons:
For a purist gamer, best saving some money and getting a 4790k based build.
Kitguru says: The Predator X99 is built to very high standards and designed for a myriad of duties including 4K gaming and bandwidth intensive editing.