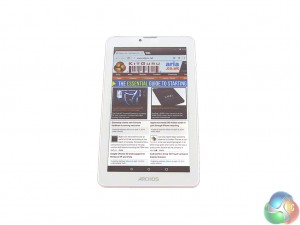 The 7 inch display on the Archos 70b Helium has a 1024×600 resolution. Admittedly this is not huge, resulting in a pixel density of 169.55 PPI. While I do like my tablet screens with 'retina' sharpness – ideally above 300 PPI – that is not feasible for a budget tablet. My thinking is that if you are considering a £70 tablet, you are probably not too fussed about how sharp the display is. After all, it is still entirely usable, it just lacks that extra crispness you get with a higher resolution.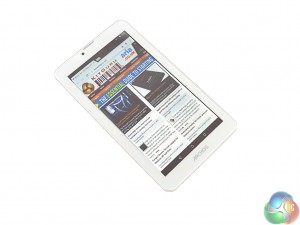 Colours are nice and punchy, too, thanks to the IPS panel. Skin tones look natural when watching films, and games look good as well. However, viewing angles are a disappointment with a large amount of colour shift, despite the IPS panel used.
One final thing to note is brightness. Again, it could be brighter but you can't have everything with a £70 device. For indoor use it is more than enough, but outside usage does become a strain.