The ARCHOS 70b Helium is a decent budget tablet retailing at just over £70.
It bucks the recent trend of 'bigger is better' with its 7 inch display size, meaning it is portable and light – weighing just 278g. While the rest of the design is fairly standard, there is a stylish silver panel on the back which just elevates the 70b Helium above the competition.
The display itself is a mixed bag. Colours are punchy while the resolution is not ideal but is usable. That said, viewing angles are pretty bad which is slightly disappointing. Despite this, the amount of colour shift is mitigated by the fact that you are less likely to be sharing a 7 inch tablet than a 11 inch device, for instance.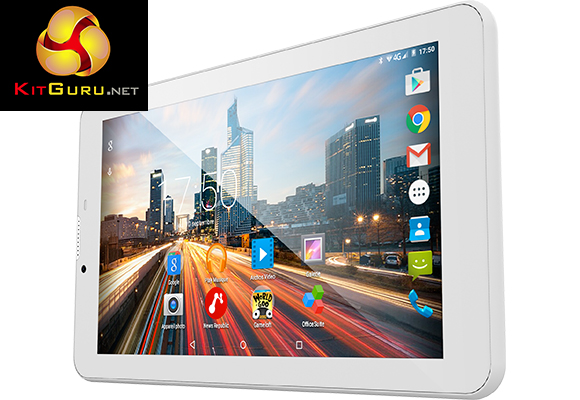 What really impresses me with the 70b Helium, though, is the real-world performance. Apps open without having to make you wait, and multi-tasking between open apps is responsive – despite just 1GB of system RAM. I think the performance is helped by a lack of bloatware on the tablet – as an extra 'layer' of OS software can really slow a device down. It is good to see ARCHOS have avoided making this mistake.
The strong battery life is another boon, as I found the 70b Helium should last at least 2 days depending on how often you use the tablet.
One final area of discontent must be noted, however – and this is with the camera. I would guess ARCHOS tried to cut costs a little with the 2MP sensor as there is no autofocus and detail is sorely lacking. If you are looking for a tablet with a good camera, you will have to look elsewhere.
Despite this, the ARCHOS 70b Helium makes for a good budget tablet. Ideal for children or just checking your email and other general tasks, it is also highly portable and ultimately comes recommended.
You can pick up the ARCHOS 70b Helium from Amazon for £73.30 here.
Pros
Affordable.
Well designed.
Lack of bloatware helps performance.
Solid battery life.
Cons
Camera is poor.
Viewing angles could be better.
KitGuru says: The ARCHOS 70b Helium is a good budget tablet for those in the market. Its flaws are not deal-breakers provided you are not looking for a great tablet camera.