The test were performed in an air conditioned room, holding temperatures at a constant 23c. This is a comfortable environment for most people reading.
Idle temperatures were measured after 30 minutes from initial boot up with the system inactive.
Load temperatures were measured when playing Tomb Raider – a Direct X 11 game that taxes both CPU and GPU extensively. All fan settings were left on BIOS defaults.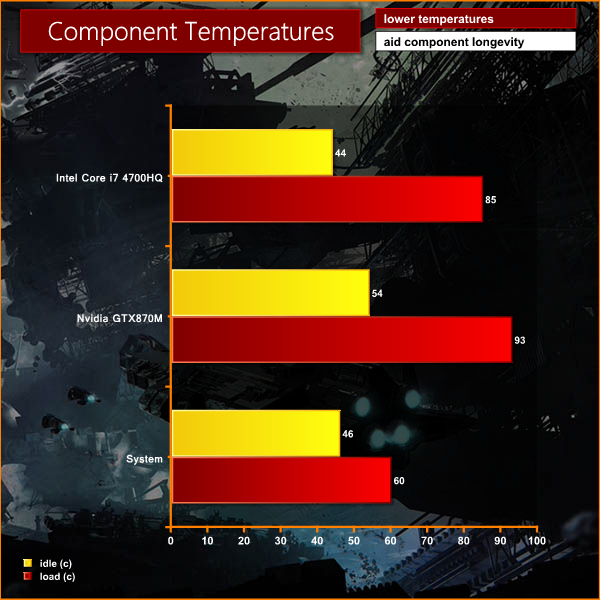 There are some downsides with cramming in all this high end hardware into such a small chassis. It does run hot under extended load. A lot of the airflow enters and is expelled through the sides of the chassis, but the underside gets very warm to the touch. We never recorded any thermal throttling or performance loss however, but it is worth pointing out that blocking any of the rear vents will be enough to cause overheating.

We attached five diodes to the back of the chassis and measured the temperature (Celcius) after one hour of intensive work and gaming.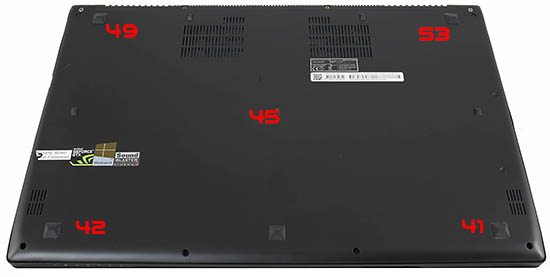 The underside of the chassis does get very hot under load. If you want to game with this laptop on your knee then we suggest you invest in a cooling pad or an ultra quiet cooler such as Zalman model, available from Amazon for around £13.